What Do Medieval Kings Have to Do with Communist China? Ask Pope Francis
Nobody expects Pope Francis to wield the kind of power and influence exercised by his medieval predecessors.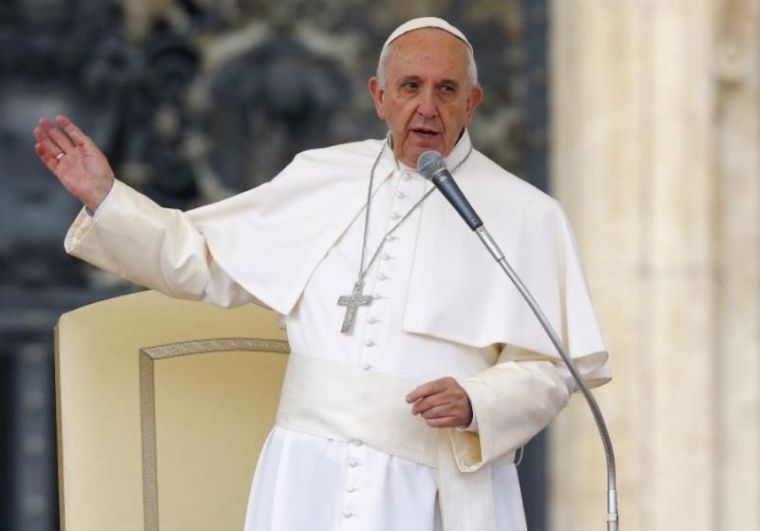 For three days in January of 1077, King Henry IV of Germany, wearing a penitential hair shirt, knelt in the snow begging pardon. His offense? Presuming, as head of state, to appoint bishops in his realm, despite recent pronouncements from Rome that such appointments were solely the prerogative of the papacy. For his defiance, Pope Gregory VII declared the king not only excommunicate—removed from the Catholic Church—but also deposed, removed from his royal office.
Having lost the confidence of the papacy, Henry also began to lose the loyalty of his subjects, and so was forced to capitulate. The first inning of the famous "investiture controversy" thus concluded in the snow at Canossa, Italy: pope, 1; king, 0.
Nearly a thousand years on, nobody expects Pope Francis to wield the kind of power and influence exercised by his medieval predecessors. And yet many of the faithful hoped he would prove at least a little more "Gregorian" in addressing what amounts to a contemporary investiture controversy in China. Instead it looks increasingly likely that, this time around, it will be the pope who capitulates—to communist China.
Just as in eleventh-century Europe, the question of church appointments is very much at the heart of the decades-long conflict between the Vatican and Beijing. Like Henry IV, President Xi Jinping's government has unilaterally appointed bishops within its borders. Because these did not receive prior papal approval, Rome has hitherto refused to recognize them as legitimate bishops. Indeed, as with Henry's own appointees, several have been formally excommunicated, meaning Rome does not even recognize them to be Catholics in good standing.
Nevertheless, according to recent reports, Francis has signaled his "inevitable" and "imminent" intent to accept the legitimacy of several state-appointed bishops. Even more shockingly, he has requested that two Vatican-approved appointees step down to make way for Xi's men, at least one of whom remains under papal excommunication.
Among the many who have criticized this move, none has been more outspoken than Cardinal Joseph Zen, retired bishop of Hong Kong. The problem, Zen emphasizes, is not the pope's asking his own bishops to resign, but "the request to make place for the illegitimate and even excommunicated ones." Such a request, Zen wrote in an open letter last month, amounts to "selling out the Catholic Church in China" to the historically hostile communist regime.
Compared to Gregory VII's vigorous defense of the Church's prerogatives, such a reaction is understandable, even if the radically different contexts of the two papacies makes the comparison not entirely apt. And yet it is precisely the very different contexts that heighten the sense of betrayal felt by many Catholics in China and elsewhere.
Whatever the wisdom of prohibiting lay rulers from appointing their own bishops, it was still a new prohibition when King Henry defied it. He could claim with some warrant to have been acting within a centuries-long tradition of royal privilege. Xi Jinping's government can make no such claim, as the trajectory of the last hundred years has been toward the absolute denial of such privilege.
The Church's 1917 Code of Canon Law, for example, forbade the granting of new rights of this kind. The Second Vatican Council even more explicitly decreed that "no more rights or privileges of election, nomination, presentation, or designation for the office of bishop be granted to civil authorities." Precisely the same wording was thus incorporated into the 1983 Code of Canon Law.
Pope Francis's acknowledgement, and even favoring, of civilly appointed and subsequently excommunicated bishops would be an astonishing reversal of this long established trajectory. This is all the more the case since bishops approved by Beijing must belong to the state-controlled Chinese Patriotic Catholic Association. Because the Association does not recognize the authority of the papacy and acts independently of it, Francis' predecessor Benedict XVI explicitly deemed it "incompatible with Catholic doctrine."
But an even more striking, and disturbing, contrast between the medieval and modern controversies is the motivations of the political actors. Henry IV, a Christian king, could at least plausibly claim to have been acting in the interests of the Church. This was precisely the justification offered by his reform-minded predecessor, Henry III, who had attempted to curb ecclesiastical corruption by deposing and appointing even popes.
China's officially atheist ruling party can of course make no claim to having the Church's best interests in view. Indeed, as recently as October of last year President Xi publicly reiterated the party line that religion is the enemy of the state. Unsurprisingly, then, the imprisonment of clergy, coercion of laity and destruction of churches has been increasingly common under his rule. New regulations on religious affairs that came into effect on Feb. 1 of this year threaten to curtail religious liberty even further.
The fact that a majority of Chinese Catholics have remained faithful to Rome even under such conditions only highlights the greatest potential difference between the conflicts of 1077 and 2018. It was the growing alienation of his German subjects that prompted Henry's eventual capitulation. Francis, by contrast, has faced no such pressure from his Chinese flock. Until now they have shown no signs of betraying their loyalty to the papacy. If Francis bows to Beijing, though, their rejection of a papacy they feel has betrayed them remains a very real possibility.
Should that come to pass, Francis will have every reason to don his own hair, shirt and do penance.
Korey D. Maas is an associate professor of history at Hillsdale College in Hillsdale, Michigan.