Why cleaning up little spiritual sins is important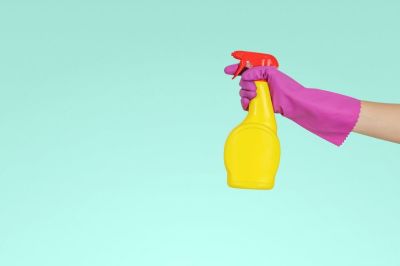 I want you to think about something I almost guarantee you've never thought about: Goliath was once a baby.

There's no Goliath infancy narrative, but of course the giant David killed with his slingshot was not always a giant! He was once a helpless little baby. Sure, he was probably a big baby. (Imagine changing those diapers.) But he was still a baby.
Then he became a toddler. The toddler became a child. The child became a teenager. The teenager became a man. And then the man, Goliath, ended up more than nine feet tall, according to 1 Samuel 17. He was big, mean, and hundreds of pounds of solid muscle.
Sometimes, our "giants" start out pretty small.

You might be dealing with a little thing in your life, or at work, or within your marriage. Maybe you've taken some small liberties you shouldn't have taken.
Then you nurture the little thing. You feed it.
A curiosity turns into a fascination. A fascination turns into a habit. A habit becomes an addiction.
And one day, you discover that your "little liberty" has turned into a full-blown giant. This is what happens spiritually when sin starts to spoil our relationship with God, and suddenly we find ourselves wondering why He feels distant.
Trust me: He hasn't gone anywhere. It's you that moved. Or better stated, something big has come between you. Your life has become a mess.
Mr. Clean
Another way to think of it is to think about cleaning. Have you ever let your house turn into a complete mess? I have.
My wife, Cathe, and I have very different cleaning styles. She is always cleaning. She's intentional about it and she's good at it. When she cleans, she means business and she does it immaculately. Cathe is not afraid to throw things away.
I am not even close to being that disciplined. Frankly, I'm the kind of person who lets messes build. I know it's gotten bad when I start losing things in the clutter. My car keys. My sermon notes. Members of my family.
Here's how I respond: When the messes start to build and I realize it's time to tidy up, I'll roll up my sleeves and do a little cleaning. But my cleaning is only a surface cleaning. Instead of putting something away, I'll shove it into a drawer. I'll kick it under the bed. Maybe I'll push it into the corner of my closet.
"I'll get around to that later," I tell myself.
And it's true! I do get around to it later. Periodically, I'll do a really big cleaning when the clutter starts to overwhelm me.

No, it's not ideal, and I'll be the first to admit it. The "Greg" style of cleaning is not nearly as good as the "Cathe" style of cleaning.

Our relationship with God sometimes follows the same process. We keep putting off small things until, because of neglect, they turn into major spiritual problems. Our babies turn into giants.
I think Jesus understood this.
Going on offense
In football or basketball or soccer, you might hear a coach say something like "The best defense is a good offense." Those sports didn't exist back in the first century — though there were enough disciples to form a decent softball team — but I think Jesus might have agreed with that kind of statement.
When Satan tempted Him in the wilderness, Jesus didn't backtrack or hide. Instead, He quoted Scripture right back at the devil. He went on the offense.

And when Jesus taught His disciples to pray in Matthew 6, He showed us how to move forward in our faith rather than getting caught on our heels. This is how He taught us to pray:
"Our Father in heaven, hallowed be your name,
your kingdom come, your will be done, on earth as it is in heaven.
Give us today our daily bread.
And forgive us our debts, as we also have forgiven our debtors.
And lead us not into temptation, but deliver us from the evil one." — Matthew 6:9-13
You're familiar with those words, of course. You can probably recite them from memory. Sometimes that's a good thing. You can't use Scripture to go on the offense against the devil if you don't have it immediately available to you. But being so familiar with a text sometimes makes it hard to see its message.
Look at those words: "Give us today our daily bread. And forgive us our debts…"
Jesus taught us to ask for God's provision daily. And He taught us to ask regularly for forgiveness. Not a few times a year. Not at the annual Easter service. Not when things get really bad. Daily.
Professional cleaner
This Lord's Prayer shows us that we need to be constantly inviting Jesus in to do some cleaning. Try as we might, we can't clean our own houses very well. We can't get to the real problems. We may not even be able to identify the real problems deep within us!
We need a pro to do the deep cleaning and that means relying on the Holy Spirit. In other words, we should be constantly undergoing the cleaning process of confessing our sins.
Yes, sometimes confessing sin is hard. It requires vulnerability. We have to admit we've messed up, and it can feel like our mistakes cause major damage to our relationship with Him.
But remember what John wrote: "If we confess our sins, he is faithful and just and will forgive us our sins and purify us from all unrighteousness" (1 John 1:9, NIV).
He will forgive us. He will purify us. Not He might, but He will. That's a promise.
Don't treat your sins like I treat cleaning the house. Don't push them aside or try to forget about them until things get really gross. Don't do it the "Greg" way and put it off until tomorrow.
Do it the "Cathe" way. Deal with your sins now and take confession seriously.          
Regular maintenance

All of us have that one house in the neighborhood that isn't looking great. It was shiny and new at one point! But the homeowner may have gotten busy and put off some repairs as they became needed. The roof leaked. The paint started to chip. They missed a weekend of mowing the yard.
Then the necessary upkeep started to pile up. They moved past the need for maintenance and jumped right into the stage of owning a home where you need to do some serious work.
The leaky roof turned into a roof that needs to be replaced.
The chipping paint turned into pieces of siding that are falling off.
The tall grass has become a forest.
And now all the neighborhood kids think the house is probably haunted. There's so much to do, the homeowners don't even know where to start. A little neglect becomes a huge problem, and one day you look up and your house has become "that house." It's embarrassing.
No one buys a house intending to let it fall into disrepair, and no one gives their life to Jesus intending to let the relationship slide. The best way to maintain the Christian life is to take care of problems as they show up.
We need to clean house, but here's the good news: Jesus doesn't say "clean up your life and come to Me." He says, "Come to me and I will clean your life up!"

He's ready. Are you?
Greg Laurie is the pastor and founder of the Harvest churches in California and Hawaii and Harvest Crusades. He is an evangelist, best-selling author and movie producer. "Jesus Revolution," a feature film about Laurie's life from Lionsgate and Kingdom Story Company, releases in theaters February 24, 2023.