Why Latino evangelicals want to bring faith into policymaking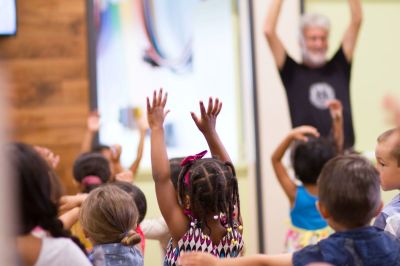 Children – Scripture tells us – are a heritage of the Lord. They are our present hope for the future we long for and are working tirelessly to create. They are precious gifts to be cherished and rejoiced in. Our calling is simple, to raise them righteously, with love, and to ensure that they have everything they need to thrive and grow into thoughtful, responsible adults.
The way we order and structure our society and communities is a direct reflection of our value for children, families, and our shared future.  It is not enough to have a well-ordered household, we have to commit to establishing policies that lift up and protect families and call out policies that work against these goals.
Without responsible policymaking, this can't happen. Evangelicals are often criticized for wanting to bring their faith into policymaking. Yet it is our faith tradition — one that upholds hard, honorable work and love of family — that helps steward us towards a fair society.
For me, being a pro-life evangelical means that all life is worthy of human dignity and protection.
The National Latino Evangelical Coalition (NALEC) has always believed in a "seamless thread of life" from the womb to the tomb. We believe in supporting public policies that protect life and lead to human flourishing. 
Thus, it is our evangelical pro-life and pro-family faith that motivates us to believe that couples should start and grow their families responsibly. Having safe, reliable access to contraception allows for responsible family planning, and a healthy family is a powerful building block for flourishing children and societies.
It is our evangelical faith that says we should expand access to the Child Tax Credit to support hardworking families and individuals across the country and in every community so they can give themselves and their children a brighter future.
It is our evangelical faith that drives us to support sensible gun safety legislation so that our children can be safe from the ongoing threats of unchecked, dangerous gun owners with harmful intentions.
In Christ's Sermon on the Mount, he encourages us to remember, "for where your treasure is, there your heart will be also."
A nation that cares about its children and families will invest in them.
Our evangelical faith drives us to make policy choices and investments that will raise up the family and nurture the lives of our children. It is a high calling in the Christian life to bestow on our children and families the same love, care, honor, and blessing that God bestows on all of us.
However, there are some public policies rooted in a lack of deep knowledge about what American families need to flourish. Some legislators are making attempts to ban contraception, while restricting hardworking families from getting the Child Tax Credit, all the while not working for laws that protect our kids from being slaughtered in their schools and neighborhoods.
This is not consistent with our clarion call to protect and nurture our children. When a nation abandons its children and families, it abandons our highest moral commitments.
But it is never too late, the Lord is always gracious and swift to bless the repentant. We have so many incredible opportunities before us to craft policy that honors the lives of our children, the rights of our families, and our Christian calling to be good stewards of God's gift. 
All parents want is to give the best possible future to our children. Let's ensure that we can let parents do just that.
The Rev. Gabriel Salguero serves as president of the National Latino Evangelical Coalition and pastor of The Gathering Place in Orlando, Florida.
The Rev. Jeanette Salguero serves as vice president of the National Evangelical Latino Coalition, director of the Carrion Hispanic Leadership Institute at Southeastern University, and pastor of the multicultural The Gathering in Orlando, Florida.