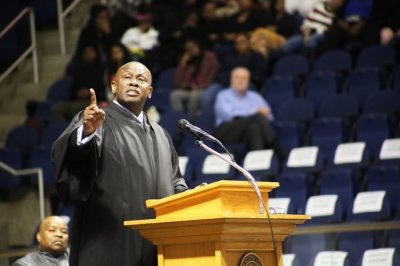 One of the most talked about commercials in the days following the Super Bowl this year was an unexpected message, for some, from President Donald Trump. In the ad, an emotional Alice Johnson is surrounded by family members and friends as she emerges from federal prison after 21 years. "I am free to hug my family! I'm free to start over! This is the greatest day of my life. My heart is bursting with gratitude and I want to thank President Donald John Trump." But Alice Johnson's story is not unique. This week President Trump pardoned 11 more people who had served prison sentences for high-profile crimes.
These are admirable acts of clemency and commutation that set an example for criminal justice reform in this country. As people of faith, we believe that all human life matters at all stages, from the moment of conception to natural death. And as believers in the transformative power of the gospel of Jesus Christ, we believe that no life – no matter how marred by sin – is beyond redemption and transformation.
That's why we're also excited to celebrate recent news that President Trump has appointed Pastor Tony Lowden as executive director of the Federal Interagency Council on Crime Prevention and Improving Reentry. Lowden is the first black pastor at Maranatha Baptist Church in Plains, Georgia – best known as the church where former President Jimmy Carter attends and teaches Sunday School.
Founded in 2018, the council brings together experts from different government agencies to strategize on how to heal our nation's criminal justice system and empower the formerly incarcerated to start their lives afresh. Despite recent reforms, our nation's criminal justice system remains one of the most punitive in the world.  The United States incarcerates more people per capita than any other nation in the world, with a total of 2.3 million people locked up in a federal or state prison, local jail or some other kind of facility.
Our justice system also fails to equip those reentering society to return to a stable life upon their release; a 2018 report from the Justice Department revealed that 83% of state prisoners who were released in 2005 were re-arrested at some point in the following nine years. It's a system that's not only ineffective, but wasteful: A 2017 study found that it cost taxpayers $182 billion each year.
Given these realities, it's no surprise that President Trump made criminal justice reform a priority as soon as he took his oath of office. At the end of 2018, he signed the FIRST STEP Act into law – a landmark piece of bipartisan criminal justice reform. Among other reforms, the law directed the federal Bureau of Prisons to craft programming designed to reduce the risk of recidivism. Once fully implemented, this programming will empower the incarcerated to redirect their course and reclaim lives of meaning, purpose and autonomy upon release.
A leader in his community and a spiritual guide to many, Lowden is exactly the right man for the job. Having grown up in a single-parent home and served as the first black pastor at Maranatha, he is no stranger to the disadvantages and discrimination that many in the black community face. However, he knows the life-changing power of the gospel for everyone and has dedicated his life to proclaiming its truth – a dedication that will serve him well in this new role.
Lowden also brings significant experience working to modernize justice systems. Georgia is recognized across the country for the remarkable progress it has made in improving its justice system in recent years. Thanks to reforms implemented by former Governor Nathan Deal, Georgia has seen a remarkable drop in prison admissions: As a whole, admissions have dropped 19%, but for African Americans, admissions have dropped 30%. The decrease is due in part to a new approach to nonviolent drug offenders that is being implemented in many states across the country. Rather than incarcerate those grappling with addiction, Georgia has created various "accountability courts" that help these individuals get sober and find stability in a safe, supportive environment. Lowden worked alongside Governor Deal to help reform the state's system as the director of the Faith and Justice Initiative for the Governor's Office of Transition Support and Reentry.
I'm eager to see how Pastor Lowden will use his new position and am confident that he will build on President Trump's achievements in justice reform, expanding the hope of freedom to even more families and individuals impacted by incarceration. The Bible tells us that it is for freedom that Christ has set us free – and, through the power of the Holy Spirit, we can renew that promise for a new generation in the land of the free.