Women should be appalled China is holding the Olympic torch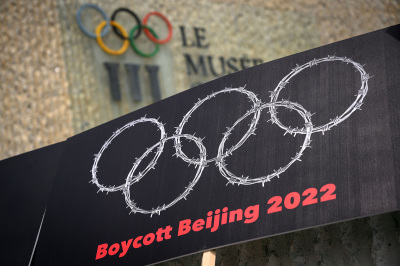 This week, American-born Zhu Yi, a 19-year-old figure skater who gave up her citizenship to compete for China in 2018, fell several times during her Olympic debut for China. Immediately following her performance, the Chinese social media platform, Weibo, was buzzing with criticism. The hashtag "#Zhu Yi has fallen" quickly started trending.

The criticism was not exclusive to her performance; comments included her inability to speak fluent Mandarin, and many users berated her misunderstanding of Chinese culture. This is not the first time Chinese athletes have faced backlash for poor performances, but the harsh backlash should be the least worry of a young woman in China.
Americans, especially American women, who understand the freedom we enjoy in the United States, are puzzled to understand why Yi would forsake her U.S. citizenship to compete for a country that has little regard for women's rights. In China, the ancient cultural traditions that women's rights were granted to her from her father or her husband or her son have changed little over the centuries. 
Under Xi Jinping's leadership, women have increasingly been pushed out of the workplace and back to traditional roles. But, a new #MeToo movement in the country has forced the government to look at revising its Women's Rights and Interests Protection Law to refine the definition of sexual harassment, affirm prohibitions on workplace discrimination and ban forms of emotional abuse.
Yet women in China who speak out, especially on social media about gender-related issues, face threats, antagonism, and censorship. Jinping and the all-male Politburo do not allow activities that will disturb the existing social order or challenge their authority.
Only a few months ago, Chinese tennis star Peng Shuai was silenced after she very courageously and publicly posted her sexual assault allegations against Zhang Gaoli, former vice premier of the People's Republic of China. The allegations were censored in minutes. The Communist Party of China (CCP) prevented search results for her name and even the word "tennis." However, the CCP's grip on women goes far beyond just censorship.
How can women expect their rights to be respected when Chinese authorities don't respect the rights of anyone? China has been criticized by political dissidents and human rights activists for widespread human rights abuses, including political repression, mass censorship, mass surveillance of their citizens, and violent suppression of protests.
Communism is about control. It is about controlling the people with an iron fist by a government that is untouchable. The people don't have a voice. Since the Communist takeover of the country in 1949, China ranks among the lowest countries in civil liberties and in government transparency; freedom of speech, freedom of religion, and of the press are not even considered.
But control over women has been the most repressive. The hereditary culture of ancient China long relied on women to bear descendants with a traditional preference for having sons. In 1979, to curb China's population growth, the communist government turned that mentality into control over women and families when it implemented its notorious one-child policy. Violators of the one-child policy faced fines and were commonly forced into abortion. Because of the cultural preference for sons, and the pressure of the one-child policy, many Chinese couples chose to abort or abandon female babies to ensure that their only child would be male. As a result, China now faces a severe gender imbalance that has resulted in an aging population with few to care for the elderly.
Faced with the economic crisis and social instability, it was announced in 2015 that the one-child policy would be dropped, and most recently, China moved to allow three children. However, many still worry about the negative effects this push to raise birth rates could have on women living under the Chinese communist regime.
But there is no denying, although the CCP and many in the media have tried, the most egregious example of the Chinese government's view of women lies in its treatment of Uyghur Muslims, including their mass detention and forced labor in the western Xinjiang Province. The CCP's forced rape, birth control, sexual abuse, and sterilization policies on the Uyghur women is simply an evil attempt to reduce the group's population and weed them out.
The Chinese communist government has been attempting to control women's reproduction, their role in the workplace, and their place in society for decades.
Right before the start of the Winter Olympics, China tried to clean up decades of horrific treatment of women and pushed "equality" messaging. They also attempted to clean up the country itself, which clearly failed as a photo of a dystopian ski-jump ramp circulates on the worldwide web. It has become clearer than ever that the CPP is just putting lipstick on a pig.
China's ancient views that women are subclass are still prominent. If there is no respect for human life, or for human rights, there can never be equality. Countries around the world that respect and uphold the dignity of women and life itself should be appalled that the CPP is holding the Olympic torch.
Penny Nance is the President and CEO of Concerned Women for America, the nation's largest public policy organization for women. She is a recognized national authority on cultural, children's and women's issues.