Would you gamble away your greatest possession?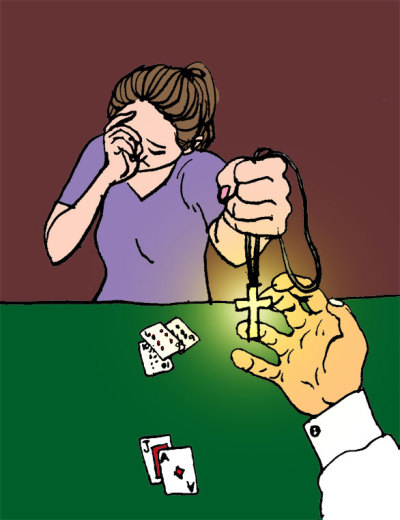 When an NFL team jumps out to a 27-0 lead, you figure the game is essentially over, right? Well, not always. Last month the Los Angeles Chargers seemed to have all but secured a playoff victory over the Jacksonville Jaguars. That is, until the bottom fell out and a last-second field goal completed the improbable comeback for the Jaguars, who won 31-30.
Are you aware that some sports bets these days are placed after the contest is already underway? Such was the case when a bettor laid down $1.4 million dollars on the Chargers to beat the Jaguars. The risky bet was placed when the Chargers were up 27-0, and a winning bet would have paid just $11,200.
In a similar fashion, a bettor risked $1,800 earlier in the season when the Indianapolis Colts were leading the Minnesota Vikings 33-0, for a chance at winning only $9. Talk about gambling a lot to gain a little.
Now compare these risky sports bets to the wise investment of time, skills and financial resources made by followers of Christ to spread the Gospel, make disciples and provide humanitarian aid all around the world. Unlike sports betting, these life-changing investments reap eternal benefits.
Jesus told his disciples, "I tell you the truth. No one who has left home or brothers or sisters or mother or father or children or fields for me and the Gospel will fail to receive a hundred times as much in this present age (homes, brothers, sisters, mothers, children and fields — and with them, persecutions) and in the age to come, eternal life. But many who are first will be last, and the last first" (Mark 10:29-31).
In other words, followers of Christ enjoy a spiritual relationship with their brothers and sisters in Christ here on Earth, and these Christian friendships will continue in Heaven throughout eternity.
Do you realize that you will spend eternity in one of two places? Therefore, your most valuable possession is your immortal soul. And if you gamble with your soul, you will lose. Risking $1.4 million in hopes of gaining an additional $11,200 is certainly a king-size bet, but gambling with your soul is the ultimate wager. Why risk so much for so little?
Jesus said, "What does it profit a man if he gains the whole world, yet loses his soul?" (Mark 8:36) And yet those who love money intensely desire to increase their stockpile.
Jesus warned against this natural tendency: "Do not store up for yourselves treasures on earth, where moth and rust destroy, and where thieves break in and steal. But store up for yourselves treasures in heaven, where moth and rust do not destroy, and where thieves do not break in and steal. For where your treasure is, there your heart will be also" (Matthew 6:19-21).
King Solomon wisely wrote, "Whoever loves money never has money enough; whoever loves wealth is never satisfied with his income. This too is meaningless" (Ecclesiastes 5:10).
You will possess both a body and a soul throughout eternity. And you will experience much pain or pleasure, depending upon which of the two extreme destinations you enter at the moment of your death. So, why gamble your soul away in exchange for worldly wealth? You have a 0% chance of winning that ultimate wager.
Jesus said, "No servant can serve two masters. Either he will hate the one and love the other, or he will be devoted to the one and despise the other. You cannot serve both God and Money" (Luke 16:13).
The love of money has dragged many souls into Hell, where there are no exits, but only "weeping and gnashing of teeth" (Luke 13:28). Keep that in mind the next time you are tempted to love money.
When "Shark Tank" host Kevin O'Leary stated recently that wealth and worldly success is the most important thing in life, he received plenty of pushback.
O'Leary told his nearly one million followers on Twitter: "You may lose your wife, you may lose your dog, your mother may hate you. None of those things matter. What matters is that you achieve success and become free. Then you can do whatever you like." Bloomberg analyst Eric Balchunas shot back: "That sounds more like the definition of Hell."
Man's heart naturally gravitates in the direction of excessive wealth and worldly success, whereas the Messiah places his followers on the path that leads to Paradise. It is never a gamble to trust Jesus because his words and his promises are a sure thing.
Jesus said, "Seek first the kingdom of God and his righteousness, and all these things will be given to you as well" (Matthew 6:33). Do you and I seek the Kingdom of God with the same intensity that Kevin O'Leary chases after more money?
Jesus told the church in Laodicea: "You say, 'I am rich; I have acquired wealth and do not need a thing.' But you do not realize that you are wretched, pitiful, poor, blind and naked. I counsel you to buy from me gold refined in the fire, so you can become rich; and white clothes to wear, so you can cover your shameful nakedness; and salve to put on your eyes, so you can see" (Revelation 3:17-18).
Eternal riches are received when a sinner repents and trusts Jesus as Savior. Prior to conversion, you are spiritually naked and deep in debt. Will you repent of your sins and rely upon the fact that Jesus paid your huge sin debt on the cross? Will you trust in Christ alone for salvation?
Some people risk a lot in hopes of gaining a little, while others are busy storing up treasure in Heaven where everyone is a winner. If you have been gambling with your soul, there is still time for you to cut your losses.
You see, everyone who bets against Jesus loses in the end, whereas "everyone who calls on the name of the Lord will be saved" (Romans 10:13).
Dan Delzell is the pastor of Redeemer Lutheran Church in Papillion, Nebraska.