Gunmen kill 137 people, including 22 children, in raids on Niger villages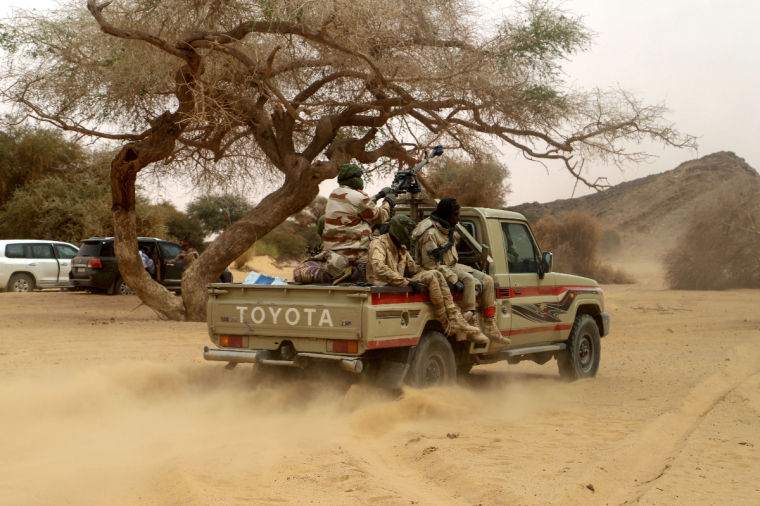 On the deadliest day in Niger's recent memory, over 130 people and nearly two dozen children were killed in a series of suspected Islamic extremist raids Sunday afternoon in a region of Africa where jihadi attacks have become more prevalent in recent years.
The attacks happened along the Mail border in southwestern Niger as unidentified insurgents on motorcycles raided three villages and other hamlets in the Tahoua region, according to government sources.
The initial estimate of lives lost released Sunday was about 60. But that count has since been updated to 137 by the government. 
The attackers remain unidentified. But violence in West Africa's Sahel region has increased as Al Qaeda and Islamic State-affiliated militants have carried out countless attacks in recent years, displacing many from their homes. 
The latest series of attacks came on the day Niger's Constitutional Court announced Mohamed Bazoum the winner of a runoff presidential election, according to The New York Times. He will take office on April 2.
An escalation of attacks has occurred since the February election, the Associated Press reported.
At least 22 children between the ages of five and 17 years old died during Sunday's raids on the villages of Intazayene, Bakorat and Wistane, according to the United Nations International Children's Emergency Fund.
"It is hard to believe that children in the region should live in permanent fear of such attacks. This doesn't have to be their reality," UNICEF regional manager for West and Central Africa, Marie-Pierre Poirier, said in a statement.
Poirier called for the protection of children to keep them out of danger.  
"The continuing conflict, repeated attacks, and access restrictions due to insecurity and violence are hampering our ability to reach those most in need, including two million children who require humanitarian assistance," Poirier said. "Attacks on children and families must stop, once and for all. Enough is enough."
The civilians were fetching water when the attacks occurred on the eve of World Water Day on March 22, UNICEF reported.
The government promised reinforced security measures in the region and an investigation to find the perpetrators.
"In treating civilian populations systematically as targets now, these armed bandits have gone a step further into horror and brutality," government spokesman Zakaria Abdourahamane said in a statement read on television Monday, according to AFP.
Niger ranks last at No. 189 on the U.N.'s country development ranking.
Dozens more were killed on March 15 when unidentified attackers killed at least 58 villagers in the nearby Tillabery region, including six children aged 11 to 17 last Monday, UNICEF reported.
In January, as many as 100 people were killed in attacks targeting the villages of Tchombangou and Zaroumbareye, also in the Tillabéri region. 
Local reports indicated that gunmen on motorcycles split into two groups and attacked the villages simultaneously, with up to 70 people being killed in Tchombangou and 30 in Zaroumbareye, according to the U.N.
The United Kingdom government issued a travel advisory for Niger that said terrorists are likely to carry out attacks. It warns of instability in the Tillabéri region, near Niger's borders with Mali and Burkina Faso. It cited recent attacks in the region.
"Attacks could be indiscriminate," the advisory states. 
The increasing violence in the Sahel region also impacts neighboring countries like Mali and Burkina Faso as millions have been displaced. 
According to the U.N. High Commissioner for Refugees, Niger's Tahoua and Tillaberi regions bordering Burkina Faso and Mali host 204,000 refugees and internally displaced people. The agency warns that civilians are "bearing the brunt of increasing attacks in Burkina Faso, Mali and Niger."
"Niger, Burkina Faso, and Mali in the Sahel are at the epicentre of one of the world's fastest-growing displacement and protection crises," a statement from the UNHCR reads. "The region is already hosting nearly three million refugees and people displaced inside their own country."
Last year, the U.S. State Department created a special envoy position to monitor rising extremism in Africa's Sahel region as Al Qaeda and Islamic State-aligned militants expand their footholds. 
The rise in extremism presents a threat to Niger's minority Christian community.
Islamic extremist violence is prevalent, and nearly 99% of Niger's population is Muslim. Though many Christians can worship peacefully, radical Islamists stir up animosity in some regions, according to the global persecution watchdog ministry Open Doors.
The Boko Haram terrorist group, prevalent in Nigeria, is also active in southern Niger and targets the Christian community, according to the charity. 
Christians are often discriminated against and have trouble securing employment within the government. They are often denied promotion, Open Doors states.