Chinese authorities slap Catholic with hefty fine for providing chapel for 'illegal' mass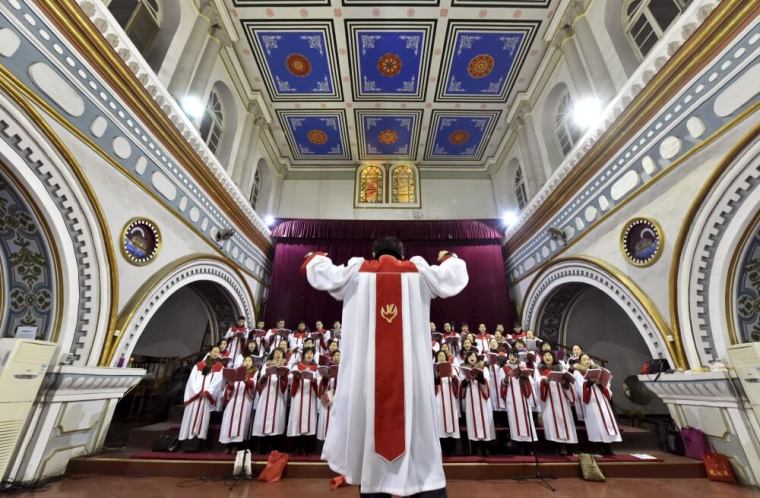 Authorities with the Chinese Communist Party are now punishing those who provide worship venues for believers as religious persecution continues to escalate in the country. 
According to Asia News, a Catholic in the town of Wangli in the Zhejiang province was fined last month for offering his private chapel to the bishop of Wenzhou diocese, Msgr. Peter Shao Zhumin.
Zhumin is only recognized by the Vatican, not by the Chinese Communist Party.
On March 16, Huang Ruixun, 56, offered his chapel to Shao and about 20 Catholics. Shortly after that, he was sentenced to a hefty fine of 200,000 yuan (the equivalent of about $30,000) under the charge of hosting the bishop for "illegal religious activities, also providing him with lunch, a rest room, etc."
Huang was accused of violating the state-sanctioned church's principle since Shao "was ordained by a foreign institution," which "goes against the principle of independence, autonomy and self-administration of the Church in China."
A 2018 China-Vatican Agreement, renewed last year, permits the Chinese government to propose new bishops to the Vatican through its state-approved Chinese Patriotic Catholic Association, with the pope having veto power on the decision.
At the time of the signing, the Vatican said it hoped the deal would promote unity among China's estimated 10 million to 12 million Catholics.
According to the press agency of the Roman Catholic Pontifical Institute for Foreign Missions, the complaint against Huang states that "facilitating illegal religious activities" is against regulations requiring that religious activities take place in places registered by the government. 
The unofficial Catholic Church in China continues to suffer, and religious persecution has worsened in recent years.
Recently, the CCP shut down two Catholic Church-run children's homes: St. Joseph's Disabled Infant Home in Renqiu, Xianxian, in the Diocese of Cangzhou, and the Liming (Dawn) Home in the Diocese of Zhaoxian. Both of those homes are in the Hebei province. 
The CCP also shuttered Catholic-run orphanages in Zhangjiakou and Zhengding, both in Hebei. Two years ago, an orphanage in Baoji, Shaanxi province, run by the Sisters of the Sacred Heart, was also shut down. 
A local priest lamented earlier this month after children were transferred to state-run facilities that the government is "not only ignoring the beautiful contribution and quality social services provided by the Catholic Church, but wants in fact to destroy them."
A report has claimed that children in state-run facilities are left "emaciated" and "low-spirited."
According to newly-released reports, religious persecution in China intensified in 2020, with thousands of Christians affected by church closures and other human rights abuses.
Under the direction of Chinese President Xi Jinping, CCP officials worked to more fully control religion, according to a report released last month by the persecution watchdog China Aid. 
Christians in both official, state-run churches and house churches were ordered to fly the Chinese flag and sing patriotic songs in services. 
Authorities also were accused of directing ministers and priests to "sinicize" sermons or alter them to conform to CCP ideology.
China Aid's April report also states that CCP authorities invaded Christians' homes, raided family gatherings and interfered with parenting decisions. Authorities also sued Christians for homeschooling their children or sending them to church-run schools in numerous instances.
The United States-based persecution watchdog International Christian Concern notes that religious persecution in China could increase in the coming months thanks to a new policy. 
The organization reports that the "Administrative Measures for Religious Personnel" going into effect on May 1 requires all clergy and religious leaders in China to "love the motherland, support the leadership of the Communist Party of China, support the socialist system, abide by the Constitution, laws, regulations and rules, practice the core values ​​of socialism, adhere to the principle of independence and autonomous management of religion, and adhere to China's religious policy, maintaining unity national unity, ethnic unity, religious harmony and social stability."
ICC warns that there will be "minimum space left for the underground Church to survive without being cracked down or harassed."
"Increased punishment will become a norm for Christians participating in these religious activities not vetted by the state,"  ICC stated in a April 27 report.