Cross miraculously left standing amid rubble of town destroyed by Calif.'s wildfire: 'God is with us'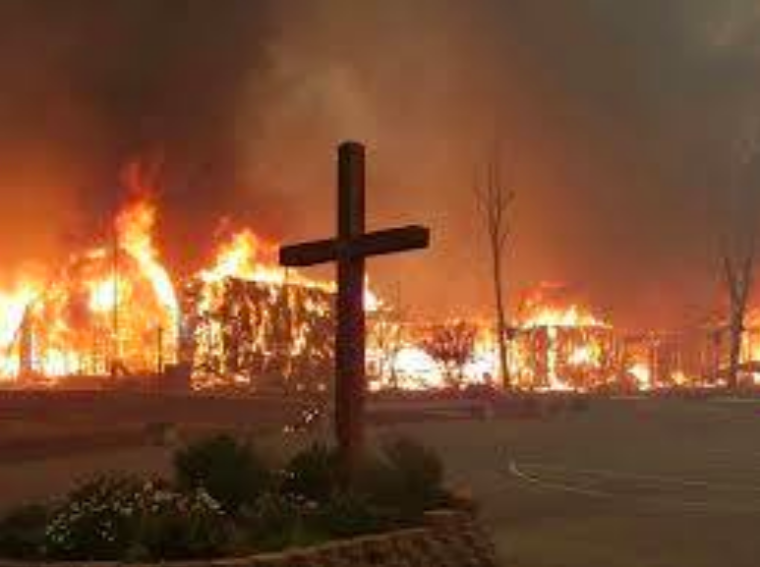 A large wooden cross that was left untouched by the California wildfires is serving as a reminder of God's faithfulness to a town almost entirely destroyed by the inferno.
On Facebook, Our Savior Lutheran Church Pastor Brandon Merrick posted a photo of the cross two days after flames devastated the town of Paradise along with the 54-year-old church building and the parsonage where his wife and two children lived.
"This picture is not just a heartbreaking reminder of what can happen to the things and people of this world, this is our one true hope in the midst of tragedy that cannot be destroyed by anything," he captioned the photo.
"God is with us. God is holding you right now as you read this note and He wants nothing more than for you to see Him through the cross where He draws us to the only place His mercy and forgiveness are found. In this picture I understand how in the cross we see both the ultimate consequence of our sin in death and the new life we have with Jesus."
The pastor reminded his grieving congregation that "the hard work of the people of Our Savior Lutheran over the last 54 years, some who are still with us, was not lost in the fire because the cross still stands."
"God is still with us and on the foundation of His promise and sure Word, we will continue to stand," he declared. "I cannot begin to imagine what will happen in the next few weeks, months or years. The good news is that we don't need to. We have God and His promise that whatever we do, we will not be doing it alone."
The cross photo, taken by Tyler Frank and Elizabeth Osborn as they escaped the flames, went viral on social media, with many sharing how the image reminded them of God's faithfulness amid tragedy.
On Nov. 8, California's massive Camp Fire, named after Camp Creek Road where the blaze began, tore through Paradise, destroying 95 percent of the town. In the town of 27,000, the inferno killed dozens of people and destroyed almost 19,000 buildings, businesses and homes. The town's smaller neighbors, Concow and Magalia, were also all but destroyed, CBS reports.
The blaze is the deadliest and most destructive wildfire in California's history. Overall, it has killed at least 85 people, left 993 missing, and burned through 10,360 residences and 150,000 acres. Firefighters finally contained the Camp Fire on Nov. 25, the California Department of Forestry and Fire Protection said.
Pastor Merrick told Fox News he views the cross photo as a "great chance for the gospel to get out," as it demonstrates that God is stronger than even the most devastating of circumstances.
"That's why I like that picture. It speaks to more than just those affected in Paradise. It speaks to the country and to the world," he said. "I told our church I really hope that that picture can be used as the picture for the fire because as the church, everything that man builds with our hands is perishable, but what God does for us through the cross is imperishable and cannot be taken away or burned up."
Our Savior Lutheran Church reportedly plans to rebuild and has set up a site with their sister church where people can help support them.