10 Highlights From the New Billy Graham Exhibit at Museum of the Bible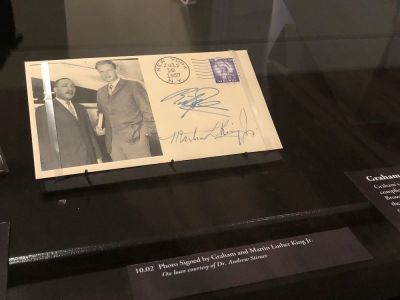 7. Signed photo of Graham and Martin Luther King Jr.
One of the more out-of-the-ordinary components to the exhibit is a signed picture of Graham with civil rights icon Martin Luther King Jr. that was loaned to the museum by a private collector.
Schmidt told CP that King and Graham had a "complicated friendship."
Although Graham began integrating his revivals before the Supreme Court's ruling in 1954 to integrate public school systems nationwide, Schmidt noted that Graham didn't do so consistently and would sometimes "bow down to the pressure of the organizers."
"He knew King and invited him to come speak during the the New York Crusade in 1957," Schmidt said. "They had a complicated friendship. By the early 1960s, Graham began to criticize [King's] political activism. I think it's the fact that [Graham] didn't call for change quicker using laws. He believed that the best way to combat racism — since racism was a sin — was to change somebody's heart and it would grow from there. I think by the end of his life, Graham realized that something more comprehensive had to take place."