10 Key Quotes: Fox Business GOP Presidential Debate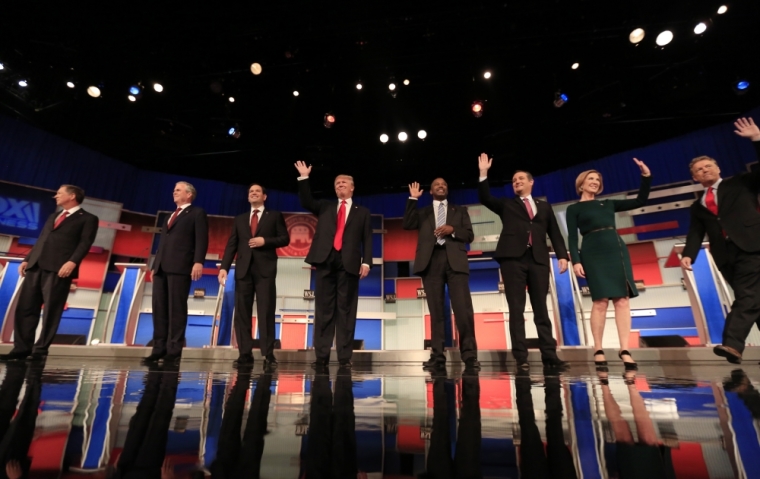 In Milwaukee Wisconsin, Tuesday's prime time GOP debate featured eight of the top candidates in the Republican presidential race.
Donald Trump and Ben Carson continue to lead the field with Texas Senator Ted Cruz and Florida Senator Marco Rubio both polling in double digits, firmly entrenched in the second tier.
Ohio Governor John Kasich, former Florida Governor Jeb Bush, Kentucky Senator Rand Paul, and former Hewlett Packard CEO Carly Fiorina rounded out the field.
The debate focused on issues related to business, the economy, and foreign policy. Out of all the candidates, Rubio touched the most on family and value issues.
Below are ten key quotes from Tuesday's debates.
1. "But, you know, when I look at somebody like Hillary Clinton, who sits there and tells her daughter and a government official that no, this was a terrorist attack, and then tells everybody else that it was a video. Where I came from, they call that a lie." – Ben Carson
Carson jokingly thanked moderator Fox Business debate moderator Neil Cavuto for not asking him a question about what he said in the 10th grade. Carson said he expects to be vetted for the office but that questions should be reasonable. He used his statement to contrast himself with Hillary Clinton, whom he accused of lying to the American people about Benghazi.
2. "If you think defending the nation is expensive, try not defending it." – Ted Cruz
Cruz interjected in an argument with Rubio and Paul about defense spending and the federal budget, declaring that the price of not spending money to defend this country against what he believed to be numerous threats would be disastrous. Several candidates pointed to the danger of ISIS and a more aggressive Russia and China as a need for bolstering defense.
3. "There are more words in the IRS code than there are in the Bible. And not a one of them is as good." – Ted Cruz
4. "If Putin wants to knock the hell out of ISIS, I'm all for it 100 percent and I can't understand how anybody would be against that." – Donald Trump
5. "Welders make more money than philosophers. We need more welders and less philosophers." – Marco Rubio.
Rubio argued that Americans need more access to vocational training and believes that we have stigmatized important trades like welding, which in some cases offer strong wages.
6. "If you raise the minimum wage, you're going to make people more expensive than a machine." – Marco Rubio
One of the arguments against raising the minimum wage is that robots or automated services will replace young or other people in need of temporary work. Rubio suggests that raising the minimum wage would have an unintended consequence of people losing their jobs to machines.
7. "I don't have to hear from this man. Believe me. I don't have to hear from him." – Donald Trump
Trump and Kasich got into a back and forth on immigration and the line was classic Trump in an attempt to dismiss his opponent.
8. "It may be the best that Hillary Clinton can do, but it's not the best America can do." – Jeb Bush
Bush said that Hillary Clinton gave President Obama an A for his policies. Bush argued that unemployment, food stamp enrollment, and poverty have all drastically increased under the president.
9. "You can be strong without being involved in every single civil war around the world." – Rand Paul
Paul said he disagreed with the Iraq War and said he would offer Americans more diplomatic diplomacy instead of in his view, policies that resemble a rush to war.
10. "Obama doesn't believe in American leadership and the net result is we have a caliphate the size of Indiana." – Jeb Bush
Bush, in responding and disagreeing to pro-Putin comments from Trump, argued that Obama's lack of leadership is fueling the rise and spread of the Islamic State.