10 Reactions to Trump's Evangelical White House Dinner
1. Melissa Rogers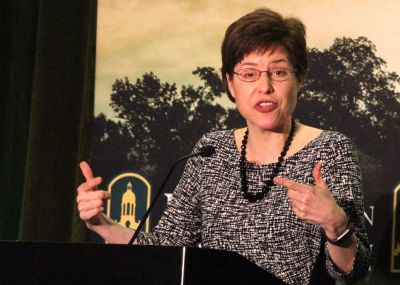 Rogers, who served as President Barack Obama's special assistant and executive director of the White House Office of Faith-Based and Neighborhood Partnerships, voiced her objections with the event.
She posted a five-point thread on Twitter that laid out two problems with the dinner that was held to honor "one faith group that was not linked to a particular religious holiday."
"First, it appears to be official favoritism for evangelicals, [especially because] it was billed as a kind of state dinner," she wrote. "Once again, the Trump WH appears to favor evangelicals (more specifically, a partic kind of evangelical) over others, while claiming to promote religious freedom."
In another tweet, Rogers noted that the event was held "in the run up to the election" and "featured a key part of Trump's base."
"It looked and sounded like a campaign event," she argued, pointing out that prominent evangelical lobbyist Ralph Reed's Faith & Freedom Coalition posted a tweet explaining how the dinner was held to "celebrate the influence of the evangelical vote in the elections and discuss plans to educate and turn out Christian voters in September."
She also linked to a previous article in The Christian Post quoting attendees who described how there was much discussion during the dinner about the victories the Trump administration has secured for his evangelical base. There was also talk about the need for evangelicals to vote in the November midterm elections.
"In sum, it sounds like this was a campaign event targeting a particular religious group in the White House, not a tribute, much less an event appropriate for 'The People's House,'" she argued.