10 survivors who shared horrors of persecution at State Dept. ministerial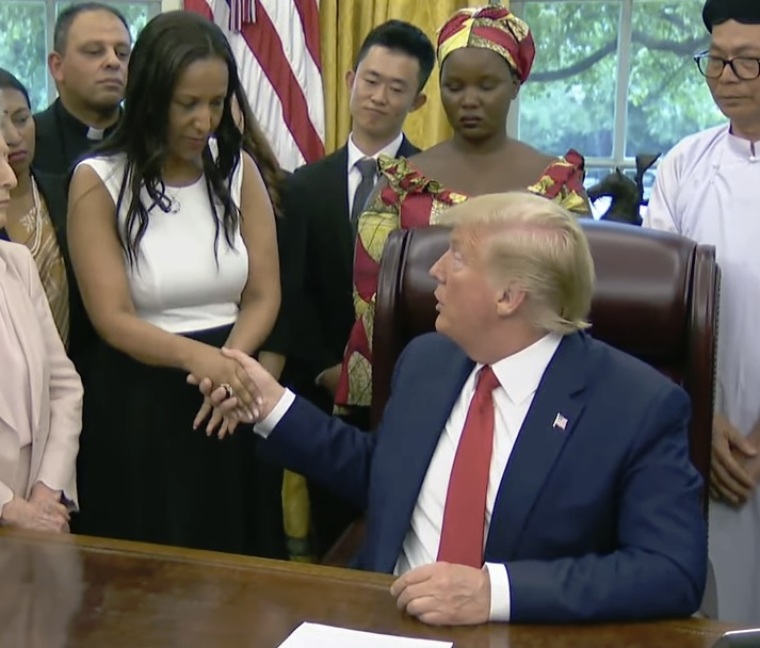 4. Helen Berhane — Christian (Eritrea) 
Berhane is a gospel singer from Eritrea who was arrested in 2004 for refusing a demand to cease participating in evangelical Christian activities.  
In Eritrea, the government has been run by President Isaias Afwerki since its independence from Ethiopia in 1993. The state recognizes only four religious groups — Orthodox Christianity, Sunni Islam, the Evangelical Lutheran Church of Eritrea, and the Catholic Church. This means that all other religious activity is illegal. 
Berhane, the author of the 2009 book Song of the Nightingale: One Woman's True Story of Faith and Persecution in Eritrea, was among the nearly 30 survivors of religious freedom who met with President Donald Trump at the White House last Wednesday. 
She told the president that she was held for 32 months inside a metal shipping container. 
According to the State Department, the shipping container lacked adequate ventilation, light, sanitation or food. Berhane was also regularly tortured while imprisoned. 
Berhane was released from prison in 2006. She then escaped to Sudan. 
Although she experienced horrifying conditions during her detention in Eritrea, she told Trump that she came to the ministerial to advocate on behalf of the "voiceless." 
"But the reason I am here — all our pastors, they are still in prison in Eritrea, including the [Orthodox Patriarch Abune Antonios]," she said. "So that is my message. I am a voice for those voiceless."
Even for the officially recognized religious denominations, the state exerts much control over religious activities and leadership. Antonios is the rightful patriarch of the Orthodox church but has spent the last decade detained because of his opposition to state control in the church. 
A day after Berhane raised Antonios' case with the president, he was excommunicated from the church by pro-government bishops.