10,000 Stand Up for Religious Freedom, Biblical Morals at SC's 'We Stand with God' Rally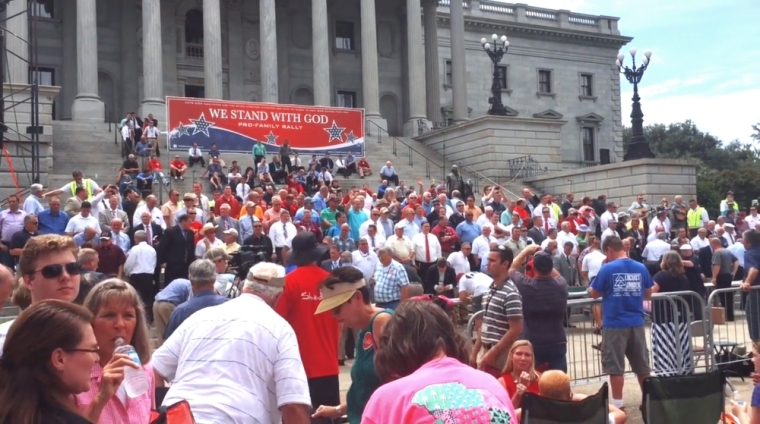 At least 10,000 people gathered at the South Carolina State House for "Stand with God, Pro-Family Rally," where Republican presidential candidates Ted Cruz and Rick Perry and U.S. senators spoke about faith and moral issues such as same-sex marriage and abortion.
"I feel like it's Sunday morning, and we have a call to worship on the (State House) steps," presidential candidate and U.S. Sen. Cruz (R-Texas) told the crowd in in Columbia, South Carolina. "Our nation is in crisis right now. But I want to tell you there is a spirit of revival that is sweeping South Carolina, that is sweeping the country. Americans are waking up," The State quoted him as saying.
Cruz also mentioned undercover Planned Parenthood videos that show the organization's employees discussing the sell of aborted babies' body parts.
"Preach life to the pulpits, preach life to the congregation, and we need to call all our leaders. No show votes, no empty votes. Stand up and lead and defund Planned Parenthood today," Cruz said.
Presidential hopeful Perry spoke about religious liberty, which, he said, is "being put in jeopardy today."
"We see fear in our churches and in our religious schools because we have a government that is out of control," the former Texas governor was quoted as saying. "For generations, this city was taught right from wrong in our synagogues, in our churches. We see these under attacks today, literally the foundation of America is under attack from those on the left. It's under attack from Washington, D.C."
Perry added: "Who are you gonna boast today? Who are you gonna stand with today? I ask you to stand with America! Stand with liberties! Stand with these biblical values that America has been founded upon. Stand with god."
Perry also spoke about corruption, saying Jesus "saw corruption, just like today, we need somebody that's got the backbone to go to Washington, D.C., and turn over the tables of the money changes, of the corruption, of the greed, that we see in Washington, D.C.," according to the Texas Tribune.
"This nation can be renewed. Are you ready? Onward, Christian soldiers!" Perry told the crowd.
U.S. Sen. Tim Scott of South Carolina also addressed the crowd, and referred to the recent Supreme Court ruling legalizing gay marriage across the nation.
"Bring your family and your faith and show the Supreme Court there is a Supreme Creator with a supreme law on marriage," the rally's website said.
"The Supreme Court's decision is an open attack on the sovereignty of every state in the Union," the organizers of the rally said in an open letter to American citizens.
"As citizens and as patriots of America we cannot support nor obey the Supreme Court's decision on same-sex-marriage. The repercussions of this decision will have far reaching negative effects on churches and religious ministries in days to come. As Christians we do not hate homosexual people but we must stand where God stands regarding sin. The purpose of We Stand with God is to encourage and empower God-fearing citizens to stand in this evil day. Timing is critical."