11 featured guests at President Trump's 2020 State of the Union address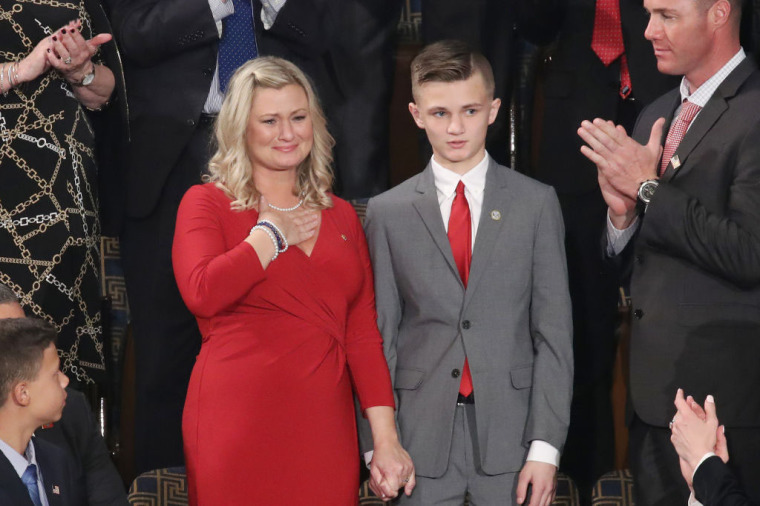 Family of a fallen soldier 
Trump gave recognition to the family of Staff Sgt. Christopher Hake who was killed by a roadside bomb in his second deployment to Iraq in 2008.
Trump quoted a letter that Hake wrote to his son in 2008 promising to teach him how to ride a bike and build his first sandbox.  
"Sergeant Hake now rests in eternal glory in Arlington. And his wife, Kelli, is in the gallery tonight, joined by their son, who is now 13 years old and doing very, very well," Trump said. "To Kelli and Gage, Chris will live in our hearts forever. He is looking down on you now. Thank you."
The President pointed out that the roadside bomb that killed Sgt. Hake was placed there on orders of Iranian terrorist leader Qasem Soleimani who was an Iranian major general in the Islamic Revolutionary Guard Corps. Soleimani was killed in a targeted attack by the U.S. military earlier this month following several attacks against the U.S. and allies in the Middle East orchestrated by Soleimani. 
Soleimani was responsible for numerous terrorist attacks worldwide as well as the killing of Iranians, Iraqis, U.S. allies and the killing over 600 U.S. soldiers and wounding of thousands of other soldiers and civilians over two decades. Other countries had tried to kill Soleimani before Trump authorized the operation.