13 Dead, 2 Injured in Horrific Crash Involving Church Bus Filled With Senior Citizens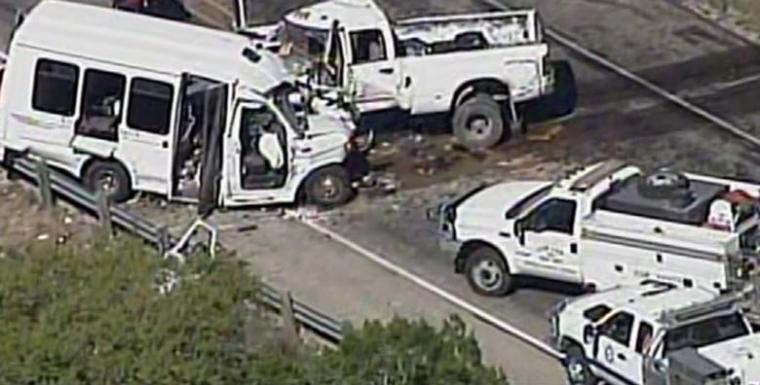 Members of the New Braunfels First Baptist Church in Texas were left reeling in grief Wednesday after a bus carrying 14 senior female parishioners from a retreat was involved in a fatal crash that left 13 of them dead.
"It is with heavy hearts that we confirm that 13 of the 14 passengers in today's bus accident were called home to Jesus. The survivor is in serious but stable condition. Families have been notified. Out of respect for the families, we will wait until tomorrow to publish an official statement and list of names. Thank you for the outpouring of love and support. Please continue to pray," the church said in a statement on its Facebook page late Wednesday night.
Another statement said that the accident occurred about 2 p.m. as the group of older adult women were returning home from a three-day retreat at the Alto Frio Baptist Encampment.
A Fox 29 report said the deadly head-on collision occurred on Highway 83 just south of Garner State Park, and the Texas Department of Public Safety and Bexar County Medical Examiner confirmed a total of 13 deaths and two injuries.
First Baptist Senior Pastor Brad McLean told the network there were still a lot of unanswered questions.
"As a church, we're waiting for some official news from authorities before we can speak to anything," he said.
He called for prayers for the church and said members of the church had gathered to do "what church families do."
"They're coming together, they're crying together, praying together, and of course there's anxiousness as to who was on the bus and what their condition is," McLean said. "There's just a lot of unknowns."
He also warned about how fleeting the future can be.
"You never know what the day is going to bring," McLean said. "The Lord tells us that we have today, tomorrow is not promised."
Nancy Lacey, a member of the church, said despite the grief, she was comforted by the knowledge that everyone who was on the bus knew Jesus.
"We know that everybody on that bus knew the Lord and we know we will be able to see them again," she said.
As news of the tragedy spread on social media Wednesday night, thousands of people flocked to the church's Facebook page to share their condolences.
"Prayers up from Trinity Baptist Church in Kerrville during our services tonight. If there is any way we can help out or do anything for you all, please let us know. Our love and prayers go out to you as we grieve with you during this very trying time," wrote Jan Homesley Solomon.
"I am Jewish. I am heart-broken for your church family and keeping your congregation in my thoughts and prayers. Enjoyed many good times in your community over the years. God bless you every one," wrote Tiger Lily.
Texas Governor Greg Abbott and his wife also offered condolences.
"We are saddened by the loss of life and our hearts go out to all those affected," Abbott said in a statement.
All activities at the church were cancelled on Wednesday.
More to come...