14-Y-O Christian Girl Kidnapped and Sold to Muslim Leader for $160, Open Doors Says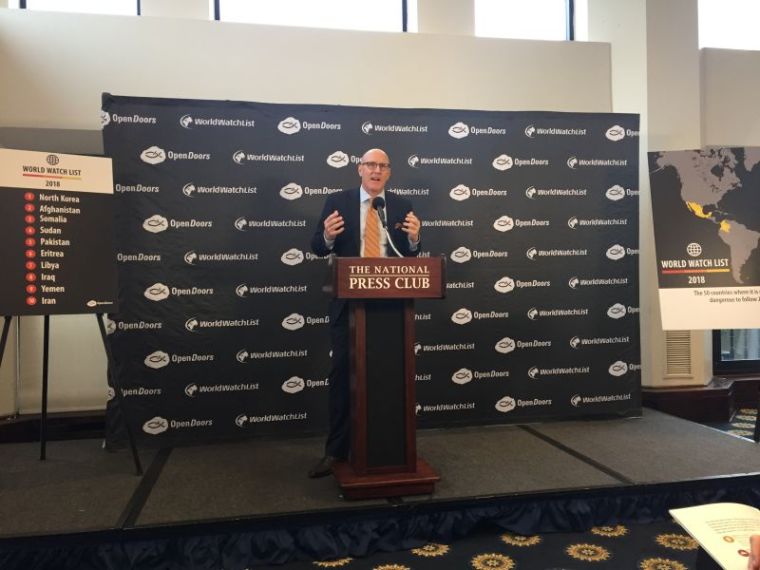 WASHINGTON — The head of one of the most prominent Christian persecution watchdog organizations in the United States shared the horrifying story of a young Christian girl who was kidnapped last year while on her way to school and sold off to a Muslim tribal leader for less than $200.
At the unveiling of the 2018 World Watch List at the National Press Club on Wednesday, Open Doors USA CEO David Curry explained that there were over 2,260 cases of Christian women and girls who were either raped, assaulted or forced into Islamic marriages during the organization's 2017 reporting period.
One girl who faced such an experience in 2017 was a 14-year-old Nigerian Christian girl, Curry recalled.
Referring to her by the name of "Habiba," Curry detailed the situation that her family faces.
"In Nigeria, which is No. 14 on the World Watch List, there was a 14-year-old girl this year who was walking to school — the picture of innocence," he said. "As she walked to school, she was kidnapped and taken from her family by a Muslim extremist living in the northern tribal region. She was forced into marriage."
Curry said that after the child was taken from her family, the extremist kidnapper agreed to sell the girl.
"A deal was cut with the tribal leader under sharia law to sell this 14-year-old girl, Habiba, for $160," Curry explained. "Do you believe this is unique? It's not."
Open Doors USA estimates that about six women and girls throughout the world are raped, assaulted or forced into Islamic marriages every day.
Curry urged Christians in the West to put faces to the statistics.
"Imagine your mother or sister, your daughter being forced, being taken away from her home and being forced into marriage with a Muslim extremist maybe for $160," he stated. 
He also highlighted the story of a 47-year-old nun in India who was raped and abused by Hindu extremists.
"[L]ike Mother Teresa, [she] worked with the poorest of the poor in India," Curry said. "Because of her faith and because of the rising pressure of persecution in India, she faced numerous threats on her life from Hindu extremists, who said to her, 'Stop working with the poor, stop loving people in Jesus' name or we will kill you or hurt you.'"
Those threats came true when two extremists attacked the nun at her medical clinic, Curry said. The nun was drugged, raped and left tied to a bed unconscious.
"When the police came to investigate, they began to systematically destroy evidence and had the shoddyist of investigative processes," he stated. "That's what justice is like in India."
According to Curry, the nun's attackers were acquitted.
India ranks as the 11th-worst nation in the world when it comes to Christian persecution on the 2018 World Watch List. Curry said that India is in "a particular place of shame on the World Watch List because it purports to be part of the international community." The World Watch List shows that 635 Christians were held or detained in India in the last Open Doors reporting period.
A 30-year-old Christian woman who lives in Upper Egypt named Tabitha told The Christian Post after the press conference that Christian women are harassed and assaulted every day on the streets of Egypt.
"Persecution is so heavy, for women especially. We live in Islamic country and Islamic culture is so heavy. They persecute Christian women and girls, firstly, because they consider women second class," Tabitha said, adding that Islamic culture allows men to have up to four wives.
"They always [commit] verbal harassment and physical harassment everyday while we are walking on the street, especially Christians since they don't have the veil or the scarf on their heads. So everybody knows they are Christians. It is written in their ID actually that they are female and they are Christians," she continued.
"They kidnap them, they are facing lots of sexual abuse, especially in villages because Christians there are so poor and are illiterate and they use them in a very bad way."