14-Y-O Pregnant Girl Who Escaped Boko Haram Sees Unborn Child as 'Gift From God'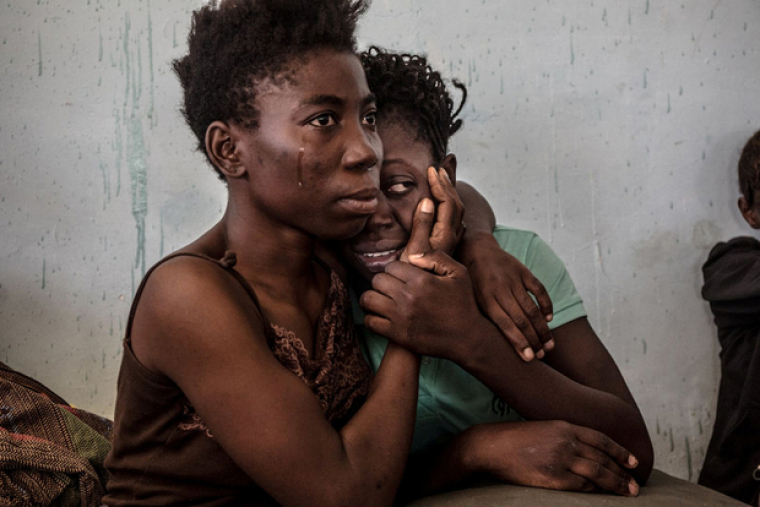 A 14-year-old girl who was kidnapped by the Islamic radical group Boko Haram in Nigeria and forced to marry one of its fighters has said that she now finds her pregnancy to be a "gift from God."
"I was taken from my home when my town of Bama was set on fire by Boko Haram. They put a gun to my father's head and said they would kill him if he didn't let me go. Then they took me," the girl, identified as Aisha, recalled of how she was initially taken by the terrorists in an article in Naij.com on Monday.
Aisha was kidnapped two years ago but has since been rescued and lives at the Dalori Displacement Camp in Maiduguri, where she receives support from the United Nations Children's Fund.
Like many other girls, she was abused and forced to marry a Boko Haram radical while in captivity.
Aisha shared some details about her life as a captive, and said that the women and their captors were constantly on the run because of the terror group's ongoing war with the Nigerian army.
The women barely talked amongst each other, she said, amid fears that any negative talk would anger the radicals and get them killed.
"If you told anyone that you wanted to escape, they would call you an unbeliever, then punish or kill you, so I kept my thoughts to myself," Aisha said.
"While we were walking, the men would say to us, 'This is God's work, it is difficult. God is testing you and you have to be strong.' I didn't know if my parents were still alive. My town had been burned down. I wanted to die," she added.
Aisha managed to escape through the help of an old woman while the Nigerian army was conducting an operation against Boko Haram. And although she has been reunited with her mother and brother, she found out that her father died shortly after her abduction.
"The last thing my father said to me as I was being kidnapped was, 'This is the most difficult moment you are going to face, but you will come back to me,'" she said.
While the article did not specifically explain whether Aisha's pregnancy was a result of her time under forced marriage, she said she's now trying to see it as a positive in her life.
"When I found out I was pregnant I was sad, but now I realize it is gift from God. Others that have experienced this are facing the world proudly," she said, adding that she wants to go back to school one day to continue her education, while taking care of her child.
Women and children who've been converted and brainwashed into joining Boko Haram have had to undergo "deradicalization" programs aimed at countering radical Islamist teachings, given that a number of the kidnapped victims have ended up as suicide bombers for the jihadists.
"You can treat a person's emotional state ... but if you don't change the way they think and just release them into society, you will be perpetrating a vicious cycle," Fatima Akilu, head of the Neem Foundation, which runs the deradicalization program, said back in February.
"It can be tougher to deradicalize women than men," Neem noted.
Boko Haram, which targets and kills Christians and all who stand in its way, has been carrying out attacks in Nigeria since 2009, capturing numerous villages and towns in the process.
The Nigerian army has recently claimed a number of important victories, however, with an operation on Monday at Jarawa village in Borno state apparently leading to the rescue of 1,623 captives.
"The rescued persons have been escorted to Rann Internally Displaced Persons Camp, while all the children were vaccinated," said army spokesman Sani Usman, as reported by the Premium Times.