19 Kids & Counting's Jill Duggar Pregnant: 'God Doesn't Just Pop Out Babies,' Star Says as Family Shares Reactions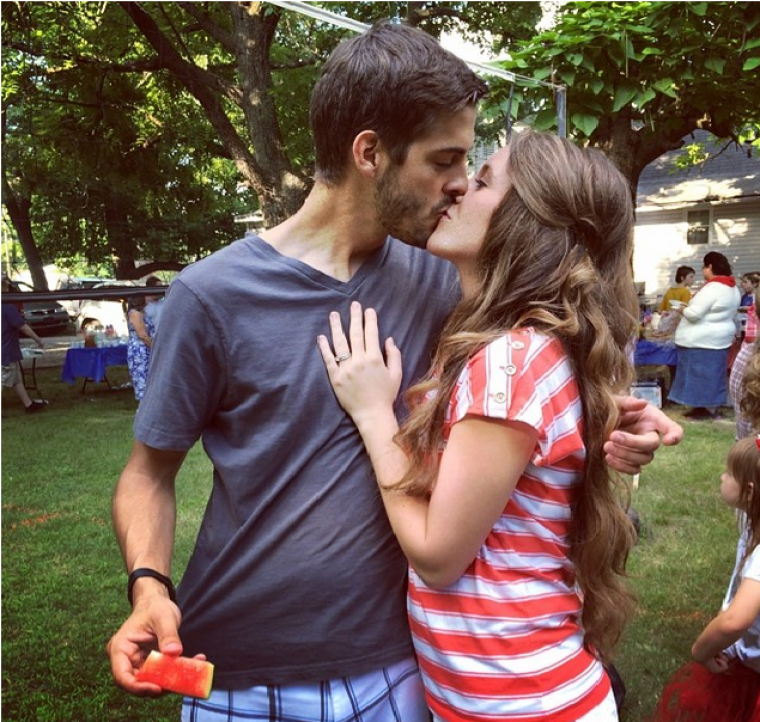 Jill Duggar is pregnant with her first child, and the Duggar family could not be happier; they recently shared their reaction to the news.
"We got pregnant a little less than two weeks after we got married," Jill explained. "We may not get a few years alone together, but God doesn't just pop babies out. You have nine months. Derick and I want to leave up to God how many children we would have, whether that is two or 20."
"There is a lot of joy," mom Michelle Duggar said. "I have said to Jill, 'When you feel sick and so tired, remember you are growing another person inside of you and this is a good reason to be sick. For me, I would try to sit down and rest whenever I was sick while pregnant. You have to do what you have to do. The end result is so worth it," she told People.
Michelle is the perfect person to be giving out prenatal advice since she has given birth to 19 healthy children. Jill is the second Duggar child to be expecting, and the baby she is having with husband Derick Dillard is due in March 2015.
"Jill has been such a wonderful sister to all of her brothers and sisters," dad Jim Bob said. "She always makes activities for the kids, looks for ways to make a dull project fun. And Derick is going to be a great father."
Even Jill's brother, 15-year-old Jedidiah has only good things to say about his sister and brother-in-law's parenting abilities.
"I am so excited for Jill and Derick, and I know they are going to make wonderful parents," the teen told People. "Jill has always wanted to be a mom. She is perfect for it. Derick is a wonderful guy; he will be a good dad. He will be amazing. I am up for babysitting if they need help," he added.
As soon as they learned she was pregnant, the couple gathered the entire Duggar family together to make the announcement.
"Everyone was clapping and cheering, and we were in shock, too," Jim Bob said.
The baby already has a tentative nickname: Baby Dilly.