21 Christian leaders: Equality Act would gut religious freedom protections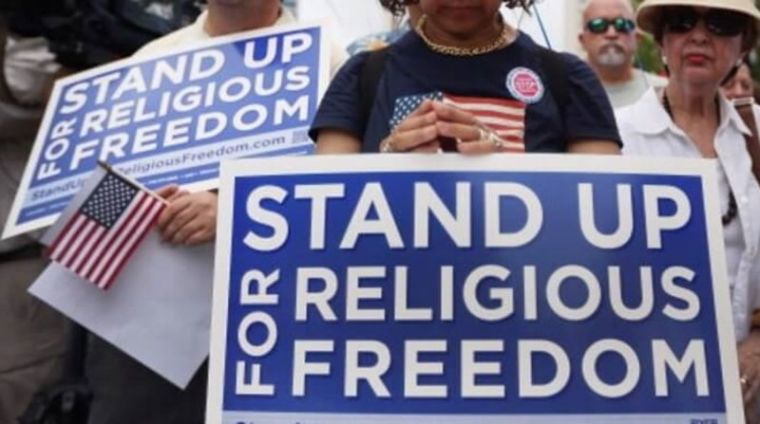 Twenty-one prominent conservative Christian leaders including Franklin Graham and James Dobson are calling on congressional leaders to oppose the pro-LGBT Equality Act because of the "threats to religious liberty" the legislation poses.
In the letter sent to both House and Senate leaders as well as Vice President Mike Pence, the religious and political leaders decried the much talked about bill that, among other things, would codify discrimination protections on the basis of gender identity and sexual orientation in federal law.
"Not only is it incompatible with God's Word (the Bible) and the historic teaching of the church, but the Equality Act is also riddled with threats to religious liberty and the sanctity of human life," the letter stresses. "For these reasons, we must state that we adamantly oppose this proposed legislation."
The Equality Act — also known as H.R. 5 — has been labeled by critics the "most extreme LGBT bill ever written" that at the same would be the "largest expansion of taxpayer-funded abortion this country has ever seen."
The act would expand the 1964 Civil Rights Act to not only protect on the basis of sexual orientation and gender identity but also protect on the basis of "pregnancy, childbirth, or a related medical condition."
"[T]he Equality Act is unacceptable because it is anti-life and creates a right to demand abortion from health care providers," the letter contends. "The termination of human life in the womb is unacceptable to any biblically and historically faithful Christian. The responsibility to care for the 'least of these' (Matt. 25:40) is a fundamental responsibility of Christ's church, and any proposal that undermines a culture of life must be rejected."
Along with Dobson and Graham, the letter was signed by leading social conservative activists Tony Perkins from the Family Research Council and Ralph Reed of the Faith & Freedom Coalition.
Other signatories include Texas megachurch pastors Robert Jeffress, Robert Morris and Todd Wagner, former Republican presidential candidate Michele Bachmann, televangelist James Robison, former Southern Baptist Convention president Jack Graham, African-American Maryland Bishop Harry Jackson, Oklahoma Wesleyan University Everett Piper and conservative talk show host and author Eric Metaxas.
"[T]he ideology enshrined in the Equality Act — which falsely equates one's sexual conduct with immutable characteristics like skin color and ethnicity — is a falsehood that openly contradicts the scriptural mandates we were given for our good (1 Thess. 4:3-8)," the letter reads.  "We cannot remain silent and allow this lie to harm countless men, women, and children — whether in this or any other legislation."
The leaders argue that passage of the bill would "lay the groundwork" for the "lie" of LGBT equality to enter classrooms across the nation. They also fear that "public educators could be compelled to teach it to their students."
"[T]he Equality Act would gut religious freedom protections — even the freedom currently enjoyed by houses of worship," the letter argues.
"Under its changes to the employment nondiscrimination provisions in Title VII of the Civil Rights Act, some houses of worship would be barred from ensuring their leaders and other employees abide by their beliefs about marriage, sexual behavior, and the distinction between the sexes."
The leaders warn that women who identify as men would have to be accepted as men and be "potentially eligible to serve in positions reserved for men," such as a Catholic priest or Jewish rabbi.
The conservative leaders warn that religious employers who fall under Title VII law could be forced to offer insurance coverage for hormone therapy, sex reassignment surgery or other procedures that violate their consciences.   
"[T]he Equality Act would expressly do away with the Religious Freedom Restoration Act's application to its provisions, thereby precluding any religious freedom claims which clergy or others might bring," the letter adds. "Under such restrictions, the pathway for the gospel would slowly be closed off."
While the Equality Act has been praised and supported by LGBT activists and Democrats, conservative-leaning think tanks and legal organizations have voiced concerns that the bill would impact those who don't affirm the gender ideology pushed in the bill.
The Equality Act was reintroduced by Speaker of the House Nancy Pelosi in March. Critics have contended that it could compel speech, lead to the closing of nonprofit adoption and foster care providers, allow biological men to compete in women's sporting events and even coerce medical professionals to do procedures that go against their consciences.
As some parents have already lost custody for their refusal to support a child's wishes for gender transition, critics feel such a situation will become more common if the Equality Act were to pass.
In an op-ed this week, Perkins, a Baptist pastor, stressed the fact that the Equality Act expands the meaning of the 1964 Civil Rights Act to include "pregnancy, childbirth, or a related medical condition."
"In other words, under the terms of this proposal, 'pregnancy, childbirth, or a related medical condition' shall not receive less favorable treatment than other physical conditions," Perkins wrote.
"Under this big new umbrella of 'discrimination,' any American who doesn't want to fund, offer, perform, or participate in abortion on demand will have no real choice. They can conform — or they can be punished."
If the Equality Act were to pass in the House, it would likely stall in the Republican-controlled Senate.