24 Muslim Immigrants Fired for Praying at Job in Kentucky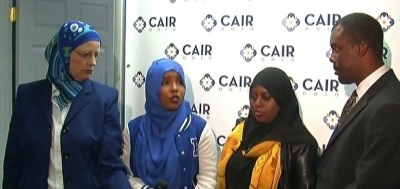 Eleven former DHL Global Mail employees have filed complaints with the U.S. Equal Employment Commission (USEEC) claiming that they were fired for praying on the job.
Twenty-four complaints in total are expected to be filed through the Ohio chapter of the Council on American-Islamic Relations (CAIR) from Muslim Somali immigrants who allege that the company did not properly respect their religious rights.
"We are requesting all available remedies allowed under Title VII (of the federal Civil Rights Act of 1964) and the Kentucky Civil Rights Act, including but not limited to: damages, reinstatement where appropriate and policy changes to ensure that all worker's civil rights are respected," Booker Washington, CAIR staff attorney, told The Cincinnati Enquirer.
Before a shift in office policy, DHL's Muslim workers were able to use its flexible break policy to step out of work to pray. But after the company reversed its policy, its Muslim employees said they would take break time off the clock and defy the ban.
"We do not have a choice," Shahira Abdullah, 21, a DHL temp worker, told The Cincinnati Enquirer. "We must stop what we are doing and pray. We were not asking for an additional break."
On Oct. 9, after the policy was instituted, at 7:24 p.m., 24 of the Muslim employees left their positions in the mail room and gathered together to pray, segregating themselves by gender.
Their supervisor subsequently called three of them into the office, before calling the Sheriff's Office to ensure the workers left without incident.
According to the USEEC website, "the law requires an employer or other covered entity to reasonably accommodate an employee's religious beliefs or practices, unless doing so would cause more than a minimal burden on the operations of the employer's business."
The website lists possible examples of the "reasonable adjustments to work environment" as "flexible scheduling, voluntary shift substitutions or swaps, job reassignments, and modifications to workplace policies or practices."
For Mohammed Maow, who worked in DHL Global Mail in Kentucky for six years, his unemployed status has made it even more difficult for him to provide for himself and his two daughters who are still living as refugees in Ethiopia with their mother.
"I have never had this problem before. When I took English class at Cincinnati Public Schools, my teachers always understood when I had to pray. It never was a problem," he told The Cincinnati Enquirer.
He also said that he is now unable to fulfill his responsibilities as a Muslim and as a father.
"First, it's religion," said Maow. "Second, it's that you are to support your father and mother and children until they are able to care for themselves. We take work very seriously."
Unless DHL volunteers to have a mediating session, for workers needing an immediate return to work may have to wait months.
"Otherwise," said EEOC spokesman Christine Nazer, "we investigate the charge, which could take approximately six to nine months. ... If our investigation determines that there likely was discrimination, we send the charge to our legal unit and determine whether the EEOC will file suit against the employer."