26,000 People Flock to Hear Tim Tebow Speak About His Dad
More than 26,000 people flocked to San Diego's Qualcomm Stadium to hear New York Jets quarterback Tim Tebow speak about his relationship with his dad, Bob, at a grand Father's Day event on Sunday.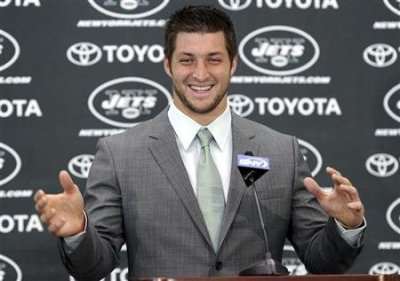 The Christian athlete, who was the special guest for a ceremony titled, "Father's Day 2012: Encouraging Men To Live, Love & Lead," in San Diego, Calif., stressed the need for role models for the next generation, and shared how his dad was one for him.
It's "so frustrating," he said, that "you have in today's society so many famous athletes" but few good examples. "If we would come together and be great role models, it would be amazing to see how the next generation turns out," U-T San Diego quoted him as saying.
Tebow was speaking inside the stadium where he led the Denver Broncos, his former team, to an overtime win against the San Diego Chargers in November. As he spoke on Sunday morning, a plane flew above the stadium pulling a banner that read, "Happy Father's Day" and "John 3:16."
"For me, it was about watching my dad. Because he could say whatever he wanted, but I watched him – how he acted, how he treated my mom, how he treated my four siblings, and that's where I learned the most from my dad is because it wasn't about what he said, it was about what he did," said Tebow, dressed in a pink striped shirt, tan slacks and loafers.
Tebow and Pastor David Jeremiah of the host church, Shadow Mountain Community Church, spoke for more than 50 minutes at the event that was free and open to public. Many in the audience were wearing John 3:16 stickers on their faces.
The 2007 Heisman Trophy winner from the University of Florida said his dad challenged him using William Wallace, the Scottish rebel in the Mel Gibson movie "Braveheart." "It had the biggest impact on my life because every time I would go to practice from then on out, I would think of what my father said to me: 'Do I really love what I'm doing? Am I passionate about it? And am I willing to sacrifice more than anybody else?'" NFL.com quoted Tebow as saying.
Pastor Jeremiah asked Tebow what he thought of the notion that, "If you are a Christian and you are a man, you can't really be a man." Tebow replied, saying he started believing in Jesus while he was a young boy, and was competitive from an early age. He recalled how he was disappointed when a coach told him winning wasn't everything.
Tebow encouraged the audience to "get in the game" by being active Christians. "I encourage you men to get in the game and finish strong, finish strong for your family, your wife and your sons and daughters."
He added that while the world looks at him as a football player who's a Christian, "I look at the world and say, 'I'm a Christian who happens to play football."
Tebow also talked about the assurance of salvation, relating it with Father's Day. "If I know that without a shadow of a doubt that I'm going to spend eternity in heaven with my Heavenly Father, then there's not a better Father's Day than that."
Tebow drew a crowd of more than 15,000 people when he spoke at a non-denominational, outdoor Easter service of Celebration Church in Georgetown, Texas, on April 8.
The quarterback told the audience that America's culture should get back to "what this country was based on: one nation under God." He also said he saw no problem in openly talking about his Christian faith, and welcomed the attention his convictions and the "Tebowing" prayer pose draw. "It's being talked about," he said. "That's exciting… It's OK to be outspoken about your faith."
Tim Tebow's Testimony at UF's 'After Dark' 2009