286 Kentucky churches leave UMC amid homosexuality debate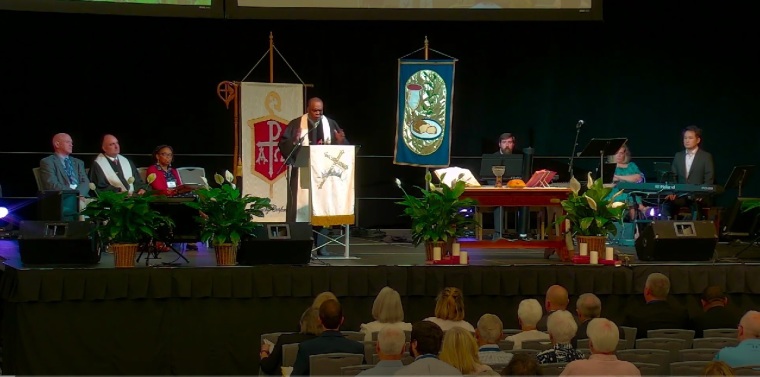 The Kentucky Annual Conference of The United Methodist Church has voted to allow 286 congregations to leave the mainline Protestant denomination due to its ongoing debate over LGBT issues.
Conference members approved the disaffiliation votes of the churches on Sunday, in a vote of 489 in favor to 56 opposed, the majority representing 89% of those gathered at the Owensboro Convention Center.
"We begin a new journey," said Kentucky Bishop Leonard Fairley in a statement. "But you know what? Even as my heart breaks, I still believe God is doing something great and wonderful among the people called United Methodist."
"Today is the day to believe that this is the best time to decide to make disciples of Jesus Christ for the transformation of the world. It matters not what the numbers say. The mission is the same."
Fairley added that he believed "something good will come of this," imploring both those leaving and those staying to "stop the harm tonight" and "to get on with the work of Jesus Christ."
Over the past several years, the UMC has been embroiled in a divisive debate over whether to amend its Book of Discipline to remove the prohibitions on the blessing of same-sex unions and the ordination of people in same-sex romantic relationships.
Although efforts to change the denominational rules have always failed, progressives within the UMC have often refused to follow or enforce the Book of Discipline. For example, last November, the UMC Western Jurisdiction voted to make the Rev. Cedrick D. Bridgeforth a bishop, even though he is in a same-sex marriage.
This has led many theologically conservative churches to decide to leave the UMC, with thousands of congregations voting to disaffiliate over the past couple of years. Many of these departing congregations have opted to join the Global Methodist Church, a theologically conservative alternative to the UMC that was launched last year.
On the same weekend that 286 churches in Kentucky left the UMC, 172 congregations in the UMC Western Ohio Conference had their disaffiliation votes approved at a regional body gathering.
"I bid the 172 churches that have departed our communion the best," Western Ohio Bishop Gregory V. Palmer said in a statement. "My focus will continue to be on a vibrant future for the West Ohio Conference of The United Methodist Church and its more than 700 churches."
Additionally, on Saturday, the UMC Michigan Annual Conference voted to approve the disaffiliation votes of 60 congregations in Michigan.
Last Thursday, 23 congregations in the Baltimore-Washington Conference were given approval to disaffiliate. 
According to numbers compiled by UM News, as of Wednesday morning, nearly 4,800 congregations have left the UMC since 2019, with over 2,000 doing so thus far in this year alone.