3 Christian series based off 'Comedians in Cars' feature clergy talking in cars about life, theology and comic books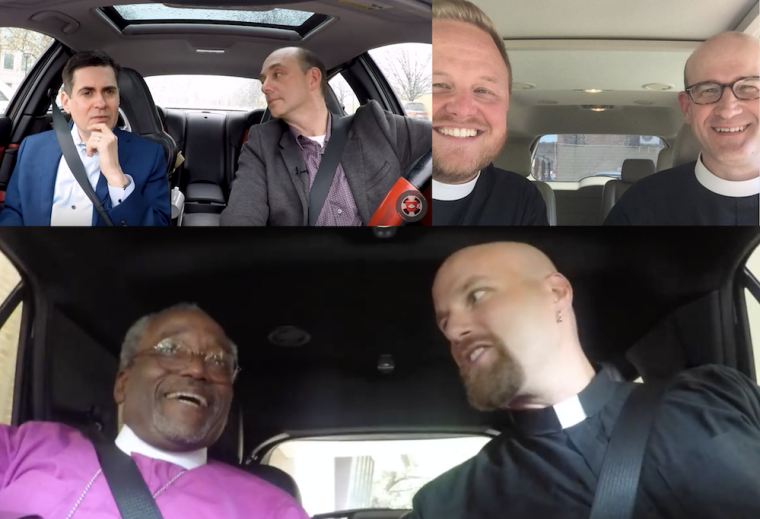 Have you seen "Clergy in Cars Getting Coffee"?
Loosely based on comedian Jerry Seinfeld's "Comedians in Cars Getting Coffee," several online series are now featuring pastors, professors and denominational leaders in cars, drinking coffee, engaging in topics that range from theology to comic books. 
Two Episcopal leaders in Texas have taken to Facebook to broadcast their series "Clergy in Cars Getting Coffee." From the Episcopal Diocese of Texas, the Rev. Daryl Hay and Rev. Matt Stone comically ride in a car and talk about traditions and popular culture on their show.
The Rev. Paul Klitzke of the Diocese of Dallas, Texas, has also premiered a show titled, "Clergy in Cars" which features various priests and bishops, including Presiding Bishop Michael Curry of The Episcopal Church who in an episode in October talked about fasting, the scriptures he was studying at the time, and racial reconciliation. He described reconciliation as "being in relationship with people that are different than you."
An advocate for reconciliation, last May, Curry led a group of multiracial progressive faith leaders in a procession to the White House to condemn racism, misogyny and the immorality of political leaders. In an interview with Fox News' Martha MacCallum at the time, he refused to say whether he'd agree to meet with President Trump to work on issues of racial reconciliation. 
Curry, who garnered worldwide attention for giving a 14-minute sermon at the wedding of Prince Harry and Meghan Markle in England last May, is a controversial figure for supporting same-sex marriage and for his decision last week to punish a bishop in New York who, following biblical doctrine, has refused to allow clergy in his diocese to officiate same-sex marriages. 
Another show that premiered just before the new year is "Cars, Coffee, Theology" with Jonathan T. Pennington, assistant professor of New Testament interpretation at the Southern Baptist Theological Seminary in Louisville, Kentucky. He describes the 30-minute series as a "caffeinated, academic, vlog on wheels."
The latest episode, which can be seen on YouTube, features Russell Moore, president of the Ethics & Religious Liberty Commission of Southern Baptist Convention. 
The conversation between the professor and Moore ranges from their childhood crushes to comic book universes, to issues concerning marriage, parenting and hermeneutics.
Pennington and Moore kept their conversation lighthearted but also talked about Moore's most recent book, The Storm-Tossed Family: How the Cross Reshapes the Home.
"As I go down each of my children, I'm a better parent. The difference is [now] I know what to freak out about and what not to freak out about," Moore said.