300 Jewish Graves Vandalized, Destroyed in France; Prime Minister Manuel Valls Calls Attacks 'Anti-Semitic'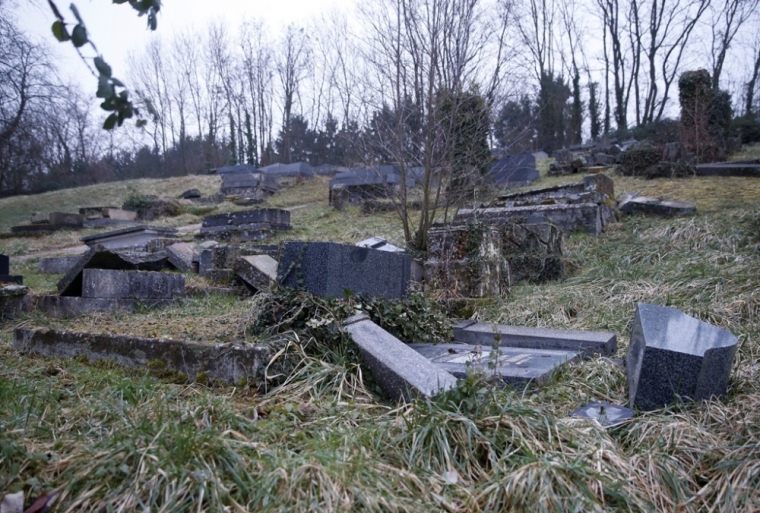 French prosecutors said on Monday that five teenagers are in police custody on suspicion of vandalizing hundreds of Jewish graves.
Over the weekend, nearly 300 tombs in the region of Sarre-Union in Alsace were defaced by the teens, who range in age from 15 to 17. The youngest suspected vandal came forward after seeing the public outcry and furor, authorities said.
"Apparently, he was very, very affected by the scale of the reaction to this affair, including the statements from the highest state authorities," prosecutor Philippe Vannier told reporters. "We don't know the motive of these adolescents who don't have past criminal records and we don't know of any ideological convictions that could explain their behavior. They are very, very shocked by the turn of events."
French Prime Minister Manuel Valls denounced the attack as a "despicable act" and said that "the country will not tolerate this new injury which goes against the values that all French people share. Every effort will be made to identify, question and bring to justice the person or persons responsible for this ignominious act."
He also called the act "anti-Semitic and ignoble" on Twitter, sending out a message to all of his followers.
Unfortunately, this is not the first time that the cemetery has been vandalized. In 1988, 60 commemorative slabs were knocked over. In 2001, 54 tombs were wrecked. In this most recent case, the teens knocked over tombstones, opened vaults, and vandalized the monument in memorial to victims of the Holocaust.
Tensions among Jews in France are already high, with deadly attacks in Paris and rising levels of anti-Semitism being felt. According to Israel National News, numerous Jews are immigrating to Israel in the aftermath of the attack on a supermarket last month that left four Jewish shoppers dead. Valls has asked French Jews not to flee and vowed that officials are doing all they can to fight anti-Semitism.
"My message to French Jews is the following: France is wounded with you and France does not want you to leave," Valls said.
However, Israeli Prime Minister Benjamin Netanyahu issued a statement calling for Jews to move to Israel.
"Jews were killed on European land just because they were Jewish," Netanyahu said. "This wave of attacks will continue. I say to the Jews of Europe — Israel is your home."