4 highlights from the final night of FRC's 2020 Values Voter Summit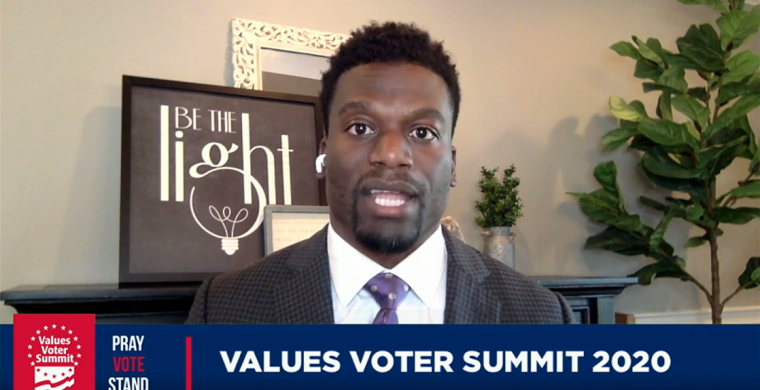 Benjamin Watson: Abortion is an 'indictment of America' 
Earlier in the evening, FRC President Tony Perkins interviewed former National Football League tight end Benjamin Watson. 
Watson, an outspoken Christian who often speaks out about issues of injustice, is an executive producer for a new documentary on abortion in the United States titled "Divided Hearts of America." 
Perkins played a preview of the documentary, which features appearances from Housing and Urban Development Secretary Dr. Ben Carson, pro-life activist Alveda King, South Carolina Republican Sen. Tim Scott and pro-life Democratic State Sen. Katrina Jackson of Louisiana.
Watson described abortion as a "justice issue," comparing it to sex trafficking, racial injustice, poverty, homelessness and religious persecution. 
"It's incumbent upon us to always stand for the most vulnerable among us and we believe that is the child that is defenseless in the mother's womb," he said.
While Watson acknowledged the importance of overturning the 1973 Roe v. Wade decision that legalized abortion nationwide, he stressed that arguably the more important battles will take place at the state, local and even neighborhood level.
"All of us that are in our different states have to realize that there's work to do on this issue with our next-door neighbors, with our local state governments … with the men and women that we come across every single day," he explained. "There's important work to be done at the state level that may, in some respects, be more important than what happens at the Supreme Court level."
Watson said that he hopes the film will "facilitate and force civic discussion, civil discourse [and] understanding."
"I want people to come into the film and to learn," he said.
"This documentary is not propaganda. I wanted this to be educational. I learned a lot. I wanted to learn about the history of abortion law in this country but also of the overarching history of where the ideas of abortion came from, how we got to this place, what's going to happen if we don't address this, what happens if we don't change course."
The Super Bowl XXXIX champion said that he wanted to hear personal stories. 
"I want people to come in from all sides, whether they have deep convictions that are in the pro-life community or even deep convictions in the pro-choice community, and think about this issue differently than when they came in," Watson said.
He explained that he is seeking to "change the culture." 
"My wife and I … live by Micah 6:8 … 'Do justice, love kindness or mercy, and walk humbly with your God,'" the former University of Georgia standout stated.  "We see this as a way for us to do justice, we see this … as a way for us to love kindness and to walk humbly in doing what He has given us to do for this time."
When asked if abortion was racist, Watson answered in the affirmative. Talking about Planned Parenthood's origins in the eugenics movement and the location of many abortion clinics in minority neighborhoods, Watson declared "there is a racism that is baked into the abortion industry."
"The abortion industry benefits from racism that is baked into a lot of other industries in our country," he asserted. 
Watson cited racial disparities in the criminal justice system, housing and wealth as reasons why abortion rates are higher in minority communities.