4 highlights from the final night of FRC's 2020 Values Voter Summit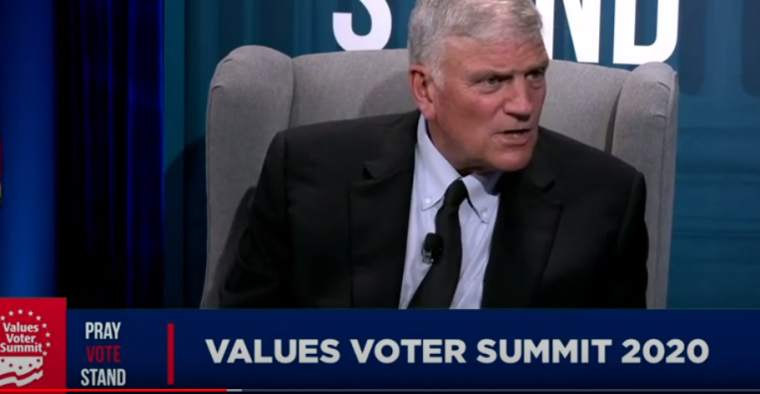 Franklin Graham: We're 'this close to losing our democracy'
Franklin Graham, the son of the late evangelist Billy Graham and the CEO of the evangelical humanitarian agency Samaritan's Purse, spoke with Perkins to preview the prayer march that took place the following day in the nation's capital.
Graham, an outspoken Christian conservative, discussed the issues facing the U.S. one month ahead of the 2020 presidential election.
"Our nation is in like a big spiral, going down," Graham contended. "We're down morally, spiritually, economically at every level. And the only hope for this country is God. … We, as a nation need a … calling."
After both Graham and Perkins agreed that the 2020 election was "the most critical election in our lifetime," Graham described the coronavirus pandemic, economic downturn, racial unrest and natural disasters engulfing the U.S. as "the perfect storm." 
"The Republican Party cannot fix that, the Democratic Party cannot fix that. God can, and if we call on Him … and ask Him for help … He just might listen … and give us a few more years," Graham argued. 
"We are just this close to losing our democracy. The people on the left … are socialists. … The ones that are in charge behind the scenes are socialists. They want to change the Constitution of this country. They want to stack the courts so that the courts will just rubber-stamp everything that they do, and to legislate law from the bench."
Graham claims that the socialists will "do everything they can to destroy" conservatives, Trump and his administration. 
Graham maintained that the American political left detests Trump because "he's touched a nerve in America."
"He's brought … a lot of these God-fearing Americans that have been silent Americans for a long time. And now, they're beginning to let their voice be heard," Graham stated.  
While Graham did not explicitly endorse Trump, he urged people of faith to vote for candidates who subscribe to "biblical values" in the upcoming election.
"What does the candidate stand for on life?" the 68-year-old urged viewers to consider. "What does the candidate stand for on religious liberty?"