4 Notable Speeches at March for Life 2018
Jaime Herrera Beutler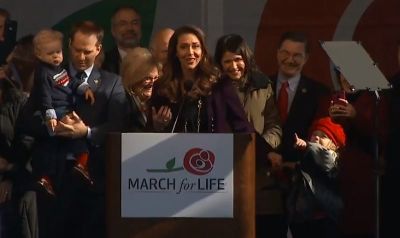 Republican Representative Jaime Herrera Beutler of Washington state spoke about her personal experience of refusing to have an abortion despite her unborn daughter having a severe disease.
With her husband and two children by her side, Beutler recalled how when pregnant with her first child, she was told she'd either have a miscarriage or her baby would die not long after being born.
"So Dan and I we prayed, and we cried, and we learned to contend," recalled Beutler, who remembers being told that she should have an abortion.
"And in that devastation ... we saw hope, what if God would do a miracle? What if a doctor was willing to try something new?"
Beutler credited "divine intervention" and "courageous doctors" with her daughter Abigail's survival, noting that she was now a "healthy" and "happy" 4-year-old girl.
"I was told there was no chance of survival, but they were wrong. And they weren't bad people, they just had never seen a baby with this condition survive, but that's the point," said Beutler.
"What if they're wrong about others too? What if, together we can break new ground and find new treatments that will benefit more than just our own families? ... What if that money [spent on abortions over the last 45 years] was used to end the baby's disease and not the baby's life?"