4 Notable Speeches at March for Life 2018
Matt Birk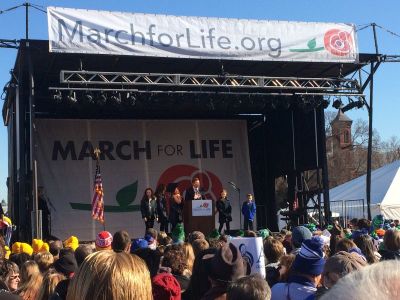 Former NFL player Matt Birk and his family came to the stage, where he said the March for Life "isn't a battle for the mind, this is a battle for hearts."
Birk told those gathered at the National Mall that "the war is not against" pro-choice activists, but rather "it's against the evil of abortion."
"Those people, they are our brothers and sisters, they are Children of God, they are made in His likeness," said Birk, adding that if one of his daughters wanted an abortion, he "wouldn't talk to her mind" but rather "to her heart."
"You talk to the heart by giving it beauty, by showing it something beautiful. And what is more beautiful than a brand new baby?" asked Birk.
"I would tell someone I care about, 'I don't want you to have an abortion, because it would prevent you from experiencing the fullness of joy that God has for your life.'"