4 Outrageous Things Said About the Kavanaugh Controversies
Chris Coons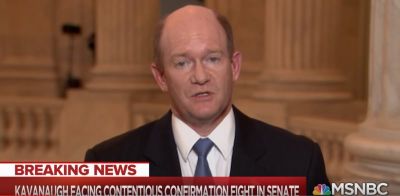 Senator Chris Coons, D-Delaware, explained that he believed Kavanaugh had the burden to prove his innocence rather than his accusers having to prove his guilt.
In an interview with MSNBC host Katy Tur, Sen. Coons was asked his opinion of the claim that the allegations against Kavanaugh was nothing but a smear campaign.
"It is Judge Kavanaugh who is seeking a lifetime appointment to the Supreme Court, and who I think now bears the burden of disproving these allegations, rather than Dr. Ford and Ms. Ramirez who should be dismissed with slanderous accusations," replied Coons.