44 Pro-Life Reasons Why 44 Percent of Americans Want a Third Option to Clinton vs. Trump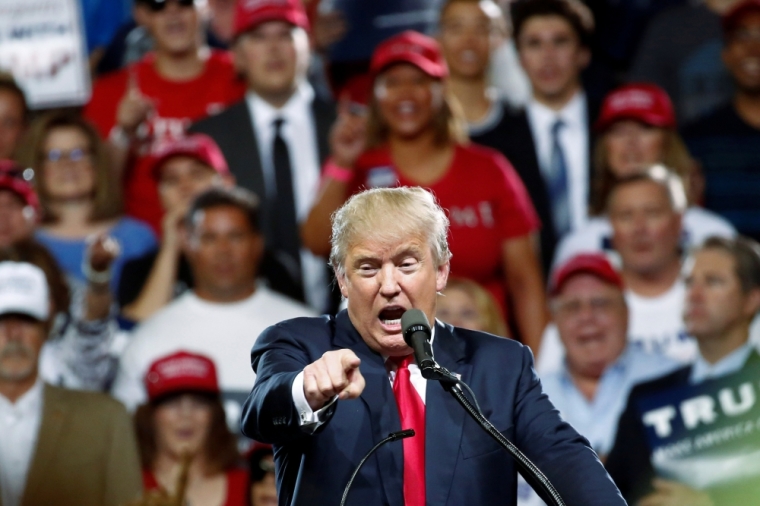 DONALD TRUMP'S RECORD ON LIFE ISSUES 
23. Trump has said he does not support changing the laws on abortion, because right now, "the laws are set." The Susan B. Anthony List responded by saying if that was his position, he had "disqualified himself as the GOP nominee."
24. Trump has repeatedly expressed admiration for Planned Parenthood, saying, it "does a lot of good," "does do wonderful things" and "does a really good job."
25. Cecile Richards, CEO of Planned Parenthood thanked Trump for praising her organization — who named Trump as their favorite Republican candidate this cycle.
26. Trump has said that his sister Maryanne Trump Barry, who supports partial-birth abortion, would make a "phenomenal" Supreme Court Justice. He reportedly changed his mind a few months later.
27. When Trump released a list of 11 potential Supreme Court nominees on May 18, many praised the judges listed for their strong records. Within hours of releasing the list, Trump walked back his commitment to nominate one of these specific judges.
28. Trump has profited from the exploitation of women, as the Trump Taj Mahal in Atlantic City, N.J. became the city's first casino to have an in-house strip club in 2013. Many pro-life leaders connect the issues of sex trafficking and abortion.
29. In his 2000 book The America We Deserve, Trump wrote, "I support a woman's right to choose, but I am uncomfortable with the procedures." Since then, he says his views have "evolved."
30. Known for generating news from his tweets, Trump was oddly silent on one trending topic. During this year's March for Life, all other conservative candidates celebrated the thousands gathered to defend innocent lives while Trump said nothing.
31. Trump has said he'd "absolutely" liberalize the pro-life platform of the Republican Party to include the exceptions of rape, incest and the life of the mother.
32. He has said he is for the status quo of funding Planned Parenthood as it is currently being funded. Yet when he was forced to clarify his stance, he finally said he would sign a bill to defund it if he became president.
33. Trump said he became pro-life because one of his friends planned on aborting a child, but decided against it and the daughter turned out to be a "superstar." Yet what does he think should happen to vulnerable babies with disabilities who aren't considered "winners" in his book?
34. Trump spreads the lie that abortion is a "fairly small part" of what Planned Parenthood does.
35. Trump has said there should be "some sort of punishment" for women who have abortions — a view that the pro-life movement absolutely does not support.
36. When Trump was asked whether he believes abortion is murder in the early stages of pregnancy, he said, "No." He has said a baby becomes a person "as the process goes along."
37. Trump's position on abortion evolves depending on the day. For example, he took 5 different positions on the issue in a span of 3 days in March and April of this year.
38. Trump has donated at least $100,000 to the Clinton Foundation, which supports abortion overseas.
39. Trump has donated thousands of dollars multiple times to his pro-choice opponent, Hillary Clinton.
40. Trump has donated hundreds of thousands of dollars to pro-choice Democratic politicians over the years.
41. In his only Congressional primary endorsement to date, Trump backed Rep. Renee Ellmers — who actively worked against the pro-life movement's top legislative priority in 2015. When votes were tallied in the North Carolina 2nd district primary election, Ellmers lost to the candidate endorsed by Susan B. Anthony List.
42. In his book The Art of the Deal, Trump wrote, "If I told the real stories of my experiences with women, often seemingly very happily married and important women, this book would be a guaranteed best-seller." Such cavalier dishonor of women and sacred marriage bonds is antithetical to a culture of life.
43. Trump claims "millions and millions of women are helped by Planned Parenthood" because it provides women's health care like cervical cancer and breast cancer treatments. Yet, Cecile Richards admitted that Planned Parenthood has never even provided mammograms.
44. Despite what Trump has said about what he believes or doesn't believe about the sanctity of life and abortion — when it comes to his actions, he has not done anything substantial or noteworthy to further the pro-life cause to date.
This will indeed be a confounding presidential election for pro-life voters, considering the current candidates. Can I in clear conscience vote for either Mrs. Clinton or Mr. Trump with what is plainly documented about their pro-choice views? 
As citizens of a democratic republic, we have a great privilege and responsibility to stay engaged in the electoral process. Unless something drastic changes, at this point, I am prayerfully exploring my options.
Lisa Smiley is a mother of four precious children, including one now with his Creator. She earned a bachelor's degree in philosophy from the University of California-Irvine. Lisa blogs at LisaSmiley.com as well as for Bound4LIFE International, a faith-based pro-life organization. Together with her husband James, they raise their family in the Dallas area. The views of the author are her individual opinions and not necessarily those of Bound4LIFE International, which takes no official position for or against individual candidates. Reprinted with permission from Bound4LIFE.