5 bipartisan accomplishments of the 115th Congress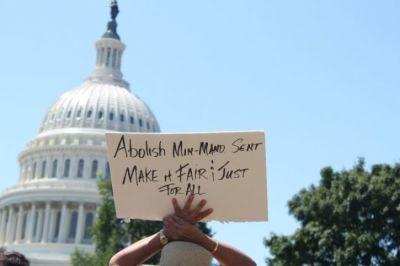 Criminal justice reform
In December, the House and Senate passed what proponents say is the most comprehensive federal prison reform legislation in decades — the Formerly Incarcerated Reenter Society Transformed Safely Transitioning Every Person Act (FIRST STEP Act).
"Criminal justice reform — everybody said it couldn't be done," President Donald Trump said at a signing ceremony at the Oval Office of the White House on Dec. 21.  "They said that the conservatives won't approve it and the liberals won't approve it. They said nobody is going to approve it, everybody is going to be against it. It has been many years, numerous decades and nobody came close."
After fear that the bill could lose support from tough-on-crime conservatives, the bill passed in the Senate by a vote of 87-12.
Among other things, the bill will primarily provide "low-risk" inmates with new incentives to participate in education, training and rehabilitation programs that will prepare them to avoid old habits and succeed once the get out of prison.
Through participating in recidivism-reduction programs that have been proven to work at the state level, eligible inmates can earn time credits to spend part of their sentences in halfway houses or on supervised release.
Because of the bill's passage, faith-based groups like Prison Fellowship (which have programs in state prisons across the country) will be eligible to set up programs in federal prisons.
The law also addresses some issues with the nation's mandatory minimum sentencing laws for low-level, nonviolent drug offenders. It lowers mandatory minimums for second-time offenders to 15 years instead of 20. It also lowers the mandatory sentence for a third offense to 25 years instead of life in prison.
The law also makes a 2010 bill reforming sentencing disparity between crack cocaine and powder cocaine offenses retroactive to apply to inmates sentenced before the 2010 reform.