5 Christians Vying for a Championship Ring in NBA Playoffs
3. LaMarcus Aldridge, 31, San Antonio Spurs Power Forward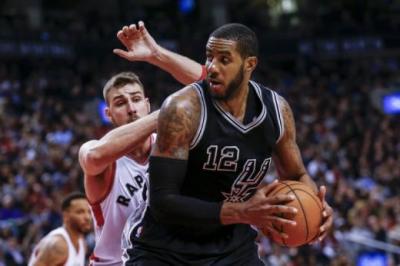 LaMarcus Aldridge didn't grow up with a silver spoon in his mouth. In fact, he recalled going to bed hungry as a youth.
While getting drafted to the NBA in 2006 did ease some of his financial struggles, Aldridge had to overcome trials like a heart condition during his first year in the league that almost sidelined him permanently and his mother's battle with cancer years later.
The big man's tattooes also showcase his faith with inking like "truly blessed," "keep God first," and "faith" written on his arms. Aldridge believes God gave him his platform to bring glory to the most high.
"I came from poverty and a tough household where we didn't have enough money to really eat, to where I am now,'' Aldridge said, according to previous Oregon Live reports. "I know it was God giving me the guidance. I am one of His children and He's let me glorify His name with my game.''
Aldridge believes with God on his side, he has been given strength through his faith.
"It gives you strength, a calmness, a belief, and takes away worry,'' Aldridge said. "If you believe in God, you shouldn't worry. I know I'm one of His children and that He will stand by me.''