5 highlights from Senate hearing on anarchist violence: Cruz slams Dems for not denouncing Antifa
5 highlights from Senate hearing on anarchist violence: Cruz slams Dems for not denouncing Antifa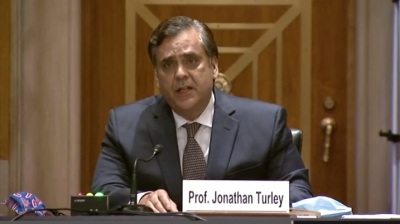 GWU professor: 'Antifa is winning'
Jonathan Turley, a constitutional law professor at George Washington University in Washington D.C., said during the hearing that "Antifa is winning" because its unconstitutional ideology is becoming more prevalent on college campuses. 
Antifa is targeting Republicans and free speech through fear and intimidation, he claimed. 
"If you go through their Antifa handbook and look at their literature, it's quite [expressive]. As stated in the handbook, they reject the premise of what they call a classical liberal view of free speech," Turley explained. "Specifically they object to statements like, 'I may disagree with what you say, but I would give my life to defend it.' They reject that. They believe that free speech itself is a tool of oppression."
"And that has been the message on campuses. What I thought was disturbing about these statements that 'Antifa is a myth' is that many of us on campus have been dealing with Antifa for years. And Antifa is winning," Turley added.
Turley has been a college professor for 30 years. He said that faculty members are afraid to discuss current social issues because of the environment of fear and intimidation. He said professors fear being labeled reactionary or racist.
According to Turley, the fear and limitation on speech is at an all-time high on college campuses and could get worse. He blamed Democratic politicians for not condemning the unconstitutional practices.
"There are some Democratic politicians that have not only failed to denounce Antifa [and] in that case seemed to give it a shout out," Turley concluded. "If you go to campuses today, you'll find more advocates for limiting speech than protecting it."