5 highlights from Senate hearing on anarchist violence: Cruz slams Dems for not denouncing Antifa
5 highlights from Senate hearing on anarchist violence: Cruz slams Dems for not denouncing Antifa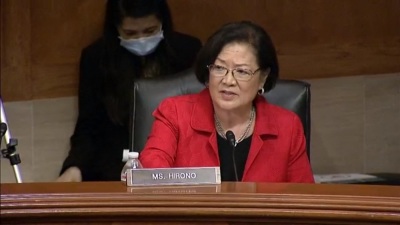 Hirono refuses to denounce Antifa by name, walks out of hearing
After the nearly-three hour discussion, both Cruz and Hirono showed frustration that ended in Hirono walking out of the hearing. 
Hirono denounced violence from extremist groups but did not directly mention Antifa despite ample opportunity.
Hirono called the hearing "an opportunity to deflect attention from systematic racial injustice." 
She also said President Trump is trying to make protesters appear to be violent anarchists to undermine the issue of racial justice.
She used the example of Trump visiting St. John's Episcopal Church in Washington after it was vandalized by demonstrators in June.
Peaceful demonstrators were cleared by federal law enforcement from Lafayette Square near the White House before Trump's short walk to the church. Law enforcement used pepper spray and other irritants to clear the demonstrators. 
"There was no anarchist violence in Lafayette Square. The only ones using force were federal law enforcement," Hirono said. "If this subcommittee wants to protect Americans' right to peacefully assemble, we should be focused on preventing federal officers from beating up protesters, tear gassing them, and shooting them in the face."
"So, how many times have I had to say that we all should be denouncing violent extremists of every stripe," Hirono added.
Cruz asked Hirono if her statement denouncing violent extremists "included Antifa." She responded by saying "I have the time," meaning that it was her allotted time to talk. 
"By the way, the Republicans are constantly using, I have to say, you brought it up yourself, the deaths of these black police officers, Patrick Underwood and David Dorn, for making political points," she explained.
"And the fact that it was right-wing extremists who killed officer Underwood, that seems to be lost in this argument. And then now there are all these attacks about Black Lives Matter and what they're saying. I mean, how many of us even think that defunding police departments should be taken literally? I mean, I certainly don't."
She argued that for Cruz to "constantly accuse Democrats of not caring" is a sign that he isn't "listening."
"So I hope this is the end of this hearing … and that we don't have to listen to any more of your rhetorical speeches," she concluded. "Thank you very much. I'm leaving."
As Hirono walked out of the hearing, Cruz offered Hirono the chance to directly speak out against Antifa. She responded, "I think I've covered the subject quite well."
Cruz drove home the point that throughout Hirono's remarks, she "did not say a negative word about Antifa, nor has any Democrat here."
"She declined to speak. So, that is the position of the Democrat Party," Cruz argued.