5 highlights from Senate hearing on anarchist violence: Cruz slams Dems for not denouncing Antifa
5 highlights from Senate hearing on anarchist violence: Cruz slams Dems for not denouncing Antifa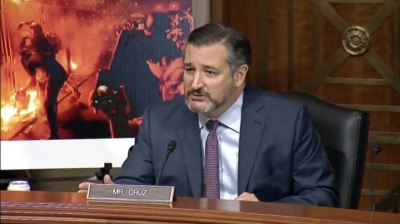 Cruz says Antifa's actions are 'profoundly racist'
Cruz opened his remarks by condemning Antifa directly for taking advantage of the legitimate nationwide protests sparked by the death of George Floyd, a black man who was in the custody of Minneapolis police and under restraint when he died on Memorial Day.  
Cruz argued that Antifa began riots, looting and destruction with no regard for the protests or racial justice. The senator claims that Antifa did so "for their own evil ends."
"What began as legitimate protests against a vile act of abuse sadly, were soon hijacked by opportunists and violent radicals," the 49-year-old Cruz explained. "By early June, rioters had injured more than 700 law enforcement officers across the country and had murdered David Dorn."
David Dorn, a black retired St. Louis police captain, was killed in June by looters when he tried to protect a friend's pawn shop. Several other African Americans have been killed during the riots this year. Minority communities, homes and businesses have also been destroyed in riots.
"This shouldn't be complicated. Peaceful protests must be protected, riots must be stopped," Cruz said. "Those rioters aren't concerned about racial justice, their actions are profoundly racist. Indeed, they're willing to make a mockery of the peaceful protests to advance their violent objectives."