5 highlights from Senate hearing on anarchist violence: Cruz slams Dems for not denouncing Antifa
5 highlights from Senate hearing on anarchist violence: Cruz slams Dems for not denouncing Antifa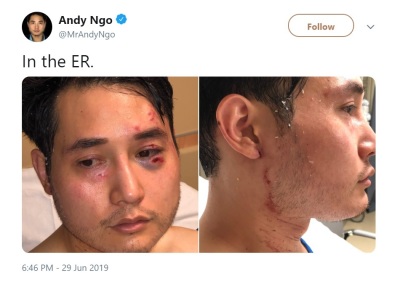 Ngo: Antifa's threat is all 'too real'
Andy Ngo, editor at The Post Millennial, has covered Antifa violence for years. In June 2019, he was surrounded and beaten while covering an Antifa protest in Portland. During the hearing, he said he still struggles with the aftermath of the injuries today.
Ngo opened his remarks explaining that the American public knows very little of the violent threat of Antifa. He argued that this in part is because Antifa is trying to silence him.
"Its followers regard my reporting as a threat to their mission, so they use violence and intimidation to threaten me into silence," Ngo said.
"First they tried to discredit me. … Next, they threatened to kill me and hurt my family. They almost succeeded last year. … I'm apprehensive to talk to Congress today given I am a target. But I am more afraid of the consequences of remaining silent."
Ngo said the riots in Portland are led by Antifa. He added that even when the riots do not result in fires and explosives, threatening messages are left behind. He claimed that the media has "ignored or down play[ed]" the extremism in Portland. 
"It's [Antifa's] threats to my family and me have proved all too real," Ngo said. "As any good journalist knows, some of the best stories are the stories not being told. This story is not being told."
The journalist explained that violence has been started by the Portland Youth Liberation Front, which he described as a "shadowy Antifa organization with secret membership" with groups across the country that "openly advocate" for violence. 
The Youth Liberation Front, he said, has strategic methods for the riots coordinated through social media sites like Twitter.
"Antifa and its allies have made rioting an artform in Portland," Ngo said. "The goal of Antifa isn't to bring down the criminal justice system but the republic itself. 'Burn it down', they say."