5 Historic Omissions in ABC's LGBT Miniseries 'When We Rise'
4. Violence against Proposition 8 supporters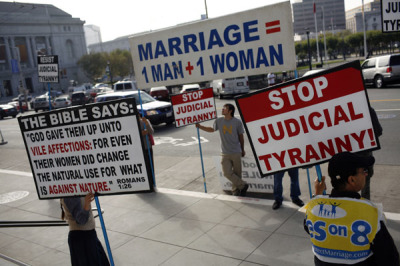 At the beginning of Part IV, the miniseries quickly goes through the 2008 ballot campaign for Proposition 8, which was California's ballot initiative to determine if the state would add a constitutional amendment banning gay marriage.
Some time is spent on showcasing the often violent riots that followed the results of the referendum, with street protests echoing earlier scenes of popular frustration.
Omitted from the scenes shown were the many documented acts of vandalism against the homes and churches of those who supported Proposition 8, before and after the ballots were counted.
For example, in October 2008 an Alta Loma trailer home was spray-painted with anti-Prop 8 after owner Suzie Taylor had put a "Yes on 8" sign up.
"And Taylor is not alone. Several people who are against the proposition say they have been victims of Vandalism," reported ABC channel 7. "Taylor says she now has to move her sign inside at night. Neighbors said it's sad it has come down to this."
Churches, especially Roman Catholic and Mormon ones, were targeted with protests and vandalism, including one Catholic congregation in San Francisco that ironically was largely opposed to Prop 8.
Sign stealing was a common practice, with the Orange County Register reporting in late October 2008 that incidents had occurred in numerous places including "Santa Ana, Yorba Linda, Huntington Beach, Fountain Valley, Irvine and Laguna Hills."
"In Fullerton, five people were taken into custody after police there found 10 torn 'Yes on Proposition 8' signs in their car. The suspects told police they had just attended a 'No on 8' rally," noted the Register.
"In Irvine, two citizen arrests have been reported of people stealing or vandalizing 'Yes' signs and on Tuesday, three students were stopped by a police officer in an area where several signs had the word 'No' spray-painted over several 'Yes' signs."
The conservative think tank the Heritage Foundation compiled a lengthy list of incidents for a 2009 essay titled "The Price of Prop 8."
The essay also acknowledged that pro-LGBT groups had denounced the violence.