5 Things That Happened at Andrew Brunson's Court Hearing in Turkey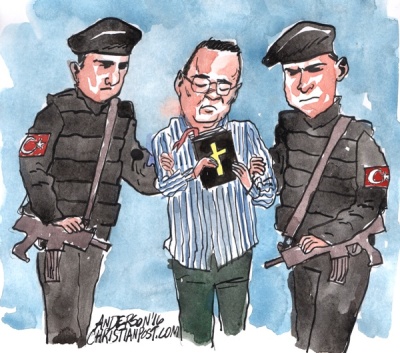 Friday's trial that concluded in Turkey's release of American Pastor Andrew Brunson was an emotional rollercoaster for not only Brunson and his wife, Norine, but also for those in attendance.
Although Brunson was convicted on terror charges that he flatly denies and was sentenced to 3.1 years in prison, the North Carolina native who has served as a pastor in Izmir for the past two decades, is now headed back to the U.S. after his travel ban was lifted and he was released on time served after having already spent over two years in prison.
Although Brunson's supporters who huddled into the old gymnasium-turned-courtroom in Aliaga rejoiced when they heard the court's decision to release the emotionally-battered minister at around 3:30 p.m., that came after serious fear struck Brunson and his supporters when it appeared earlier in the day that Brunson would likely be sent back to jail.
Two attendees at the hearing — a conservative religious freedom lobbyist and a pastor — spoke to The Christian Post about what they saw in the courtroom Friday.
In the following pages are five things that occurred during Brunson's final court hearing.