5 Things You Need to Know About 'Bring Your Bible to School Day'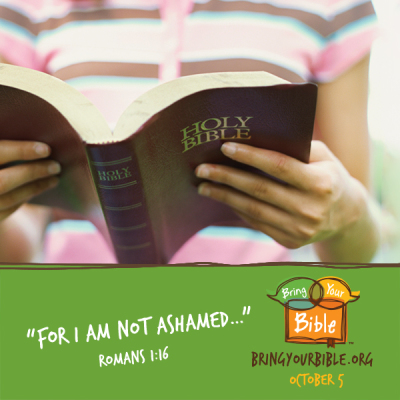 It's not unusual to hear adults in the Christian world bemoaning the fact that the Bible was forced out of public schools. But there's another reality that shouldn't be overlooked:
Thousands of courageous students, from kindergarten to college, are bringing the Bible back to campus.
It's been nearly four years since Focus on the Family launched "Bring Your Bible to School Day," with a combined participation of half a million students. This year, on Thursday, Oct. 5, students in every state will share hope and celebrate religious freedom by taking a simple action – bringing their Bibles to school and talking about it with their friends.
Here are five things you need to know about the initiative:
(1) It's completely legal. Believe it or not, students in public schools have much stronger free-speech and religious-freedom rights than adults do on campus! Federal courts have repeatedly upheld students' rights to bring their Bibles to school, to distribute them and to respectfully discuss the bible during free periods or outside of instruction time. "Bring Your Bible to School Day" gives students a simple, yet powerful way to put their rights into action.
(2) It's growing like crazy. Since its inception in 2014, "Bring Your Bible to School Day" has experienced incredible growth, swelling from 8,000 participants to an estimated 356,000 just two years later. This year, we hope to see 500,000 students join the movement.
We're often asked, "Why the rapid growth?" Based on feedback from the participants, students love the event. They see it as a fun and easy way to express a core part of their identity as believers in Jesus – as evidenced when #BringYourBible went viral on social media as students posted selfies with their Bibles and encouraged their friends to be unashamed of their faith, too. In a culture that is too often hostile to expressions of Christianity, that's an empowering freedom.
(3) It's led by students. Focus on the Family sponsors the event as an education opportunity, but it's the students who lead and organize "Bring Your Bible to School Day" in their schools. Lettie, a 13-year-old from Virginia, used to assume that it was safer to stay quiet about her Christian beliefs. After learning about her religious freedom on BringYourBible.org, she shared, "I was like, 'Wow, I could talk to people about Jesus. I could bring my Bible to school. This is awesome."
Lettie discovered that her Christian friends were just as excited as she was. She said, "Some of us didn't wait until that day. We brought our Bibles every day when we learned about it. One girl forgot to bring hers, so she checked one out of the library."
On the day of the event, "almost half the class probably brought their Bibles," she said. And it didn't stop there. The students began posting encouraging Bible verses or faith-based messages on their own lockers. And, after the event, Lettie and her friends started an after-school Bible club called "Christ's Crew." (You can watch Lettie's story and others here.)
(4) It's super easy to participate. Students can go to BringYourBible.org and sign up to receive a free participation guide with tips on getting started, fun activities, downloadable posters, stickers, and T-shirt designs – along with free-speech tools and information about their legal rights. (Elementary and teen versions are available.)
Beyond that, students decide their own level of involvement, which ranges from bringing their Bible to school and posting a #BringYourBible selfie to putting up posters and organizing a fun free-time or lunch activity for their friends.
(5) It's vitally needed at this time in our culture. Reports from legal and nonprofit organizations have documented how attacks on religious freedom are dramatically increasing in our society, and sadly, these attacks are mirrored in the classroom. Whether it's a first-grader being told not to talk about God or students being told not to read the Bible during free time, this event is a much-needed reminder that students' basic First Amendment rights cannot be erased.
We also know from talking to Bring Your Bible to School Day participants that kids often receive subtle – or even overt – messages that their Christian faith is unwelcome and something they should hide when they walk through the school door.
But this event empowers students to counter that myth in a loving way. "The big idea behind Bring Your Bible to School Day is to help kids feel empowered to share what's most important to them, and what makes them who they are – their faith," said Focus on the Family President Jim Daly.
Please pray with us that God would continue to grow this beautiful movement and raise up a generation of students who love the Word and will "be the Jesus" in their schools on Thursday, Oct. 5, and beyond.
Candi Cushman is a leading national expert on education issues and founder and facilitator for Focus on the Family's annual student-led Bring Your Bible to School Day.