500 Hindu Radicals Attack Christians With Stones in Church Raid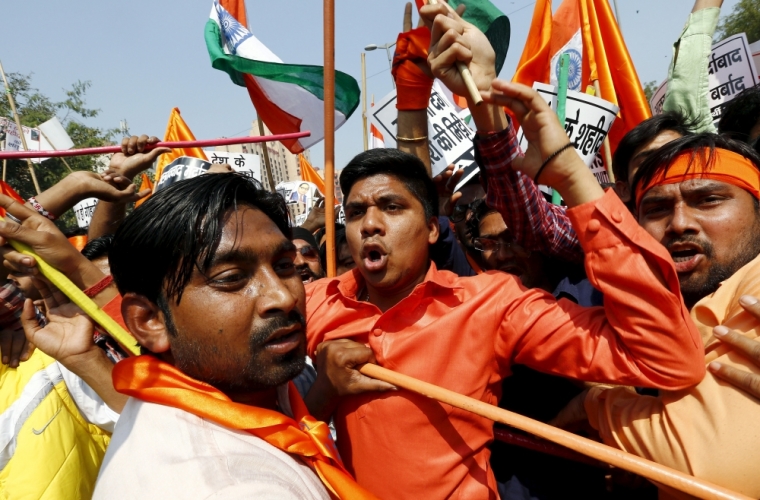 A Protestant church in Jabat, in Madhya Pradesh India, was attacked by a mob of 500 Hindu extremists who threw stones at Christians and damaged the church's entrance over an allegedly torn nationalist flag.
AsiaNews reported on Thursday that the radicals were apparently incensed when they discovered that saffron-colored flags, the symbol color of the ruling Bharatiya Janata Party, placed outside the church had been torn.
The activists reacted by throwing stones at believers at the church, with Meena Chauhan, superintendent of Alirajpur district police, claiming that authorities immediately registered the complaint and sent in a patrol to start making arrests.
Pastor Emmanuel Ariel had a different story, however, explaining that the flags were probably torn by the wind, and second that the police only stood by and watched the attack.
"RSS activists [Rashtriya Swayamsevak Sangh, the Hindu ultra-nationalist paramilitary group ed], the BJP and Bajrang Dal [youth wing of the Vishwa Hindu Parishad, VHP] led by former district chief, threw stones at members of the community, attacked our women and broke the church lamps," Ariel explained.
He added that "all this happened before the eyes of the police officers, who stood by as silent spectators."
Persecution watchdog group International Christian Concern notedthat this was "only the latest attack on Christians" in India, with several reports of rising Hindu violence against the growing Christian population over the past few years.
Earlier in April a report by Christian Solidarity Worldwide revealed that two Hindu radicals doused a Christian pastor and his wife in gasoline in an attempt to get them to renounce their faith.
While the Christian couple were able to escape, the attack caused "considerable" damage to the church and desecrated and destroyed many items, including Bibles, the pulpit, public address system, furniture and various items donated to the church.
"CSW condemns this and all other incidences of targeted violence against religious minorities, which have outraged civil society in India," CSW's Chief Executive Mervyn Thomas said at the time.
Human rights activist Jagadish G Chandra reflected in November on the anniversary of the 2008 massacre of nearly 100 Christians in Orissa, which also destroyed 300 churches and 6,000 homes, stating:
"The celebration is an opportunity to reflect on the theme of growing intolerance orchestrated by Hindu extremist groups across the country, and how these ideas have infiltrated the government, police and courts, eroding the values of justice, equality, secularism and citizenship enshrined by the Constitution of India."
As for the latest church stoning, Sajan K George, president of the Global Council of Indian Christians, also said that it shows that persecution against believers is on the rise.
"Religious tolerance and freedom of worship in India are deteriorating and violence is increasing," George said.