55 Million Babies and 43 Years Later: Abortion Still an Iconic Battle Line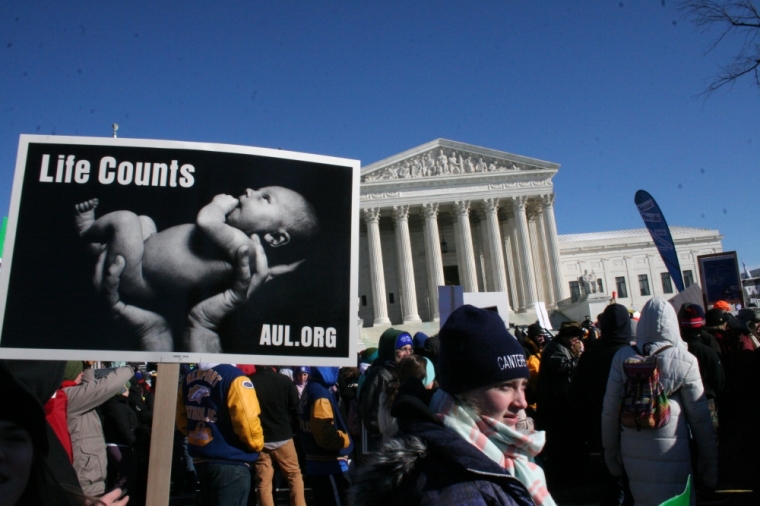 A bill meant to ban abortions after 20 weeks after fertilization will likely be voted on in the Republican-dominated House of Representatives on Thursday, which is the anniversary of the U.S. Supreme Court decision Roe v. Wade and also the annual March for Life in Washington, D.C.
Known as the "Pain-Capable Unborn Child Protection Act," the bill was introduced not long after the new session of Congress opened with Republicans controlling both houses.
Rep. Ted Franks, R-Ariz., and Rep. Marsha Blackburn, R-Tenn., sponsored the bill, which is similar to a bill passed by the House last year that stalled in the then Democrat controlled Senate.
"More than 18,000 'very late term' abortions are performed every year on perfectly healthy unborn babies in America," Franks said. "These are innocent and defenseless children who can not only feel pain, but who can survive outside the womb in most cases, and who are torturously killed without even basic anesthesia."
Legislators will be voting on the pro-life bill on the anniversary of Roe, and during the 43rd annual March for Life.
Started in response to the Roe decision, the March for Life involves tens of thousands of people from across the country coming to the nation's capital on the anniversary of Roe v. Wade to protest the landmark court decision.
"The March for Life began as a small demonstration and rapidly grew to be the largest pro-life event in the world," reads the event's website.
"The peaceful demonstration that has followed on this somber anniversary every year since 1973 is a witness to the truth concerning the greatest human rights violation of our time, abortion."
Political activism from pro-life and pro-choice advocates on the issue of abortion often takes place on the anniversary of the Supreme Court's decision.
This includes the debate over the Mexico City Policy, a federal executive order first ordered by President Ronald Reagan that bars U.S. aid to groups overseas that perform abortions, which has often been renewed on Jan. 22, the same day as the annual March for Life.
In 2009, President Barack Obama removed the Mexico City Policy in an executive order that was purposely issued the day after the Roe anniversary.
"Past presidents have instituted or revoked the ban on Jan. 22, the anniversary of the Roe v. Wade decision," ABC News reported. But Obama postponed the action by just one day, "thinking it too combative," and signed the executive order on Jan. 23, 2009, to once again give money to groups that perform abortions.
According to a poll done by Quinnipiac University, among 1,623 registered voters in November, 60 percent said they supported a ban on virtually all late term abortions.
While the bill will likely pass both the Republican dominated House and Senate, Obama is expected to veto any bill that regulates the aboriton industry.