6 Best Quotes From Scalia's Gay Marriage Dissent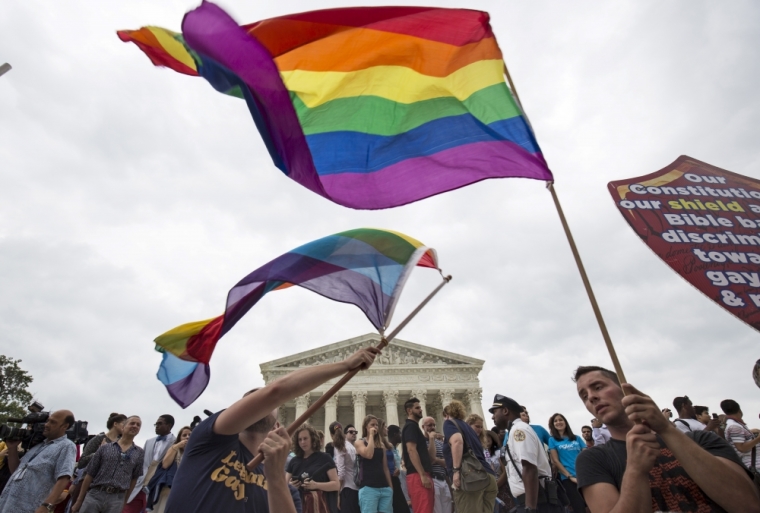 4. The most astounding part of the Court's arrogant overthrow of the government ...
But what really astounds is the hubris reflected in today's judicial Putsch. The five justices who compose today's majority are entirely comfortable concluding that every state violated the Constitution for all of the 135 years between the Fourteenth Amendment's ratification and Massachusetts' permitting of same-sex marriages in 2003.
They have discovered in the Fourteenth Amendment a "fundamental right" overlooked by every person alive at the time of ratification, and almost everyone else in the time since. They see what lesser legal minds — minds like Thomas Cooley, John Marshall Harlan, Oliver Wendell Holmes Jr., Learned Hand, Louis Brandeis, William Howard Taft, Benjamin Cardozo, Hugo Black, Felix Frankfurter, Robert Jackson, and Henry Friendly — could not. They are certain that the People ratified the Fourteenth Amendment to bestow on them the power to remove questions from the democratic process when that is called for by their "reasoned judgment."
These Justices know that limiting marriage to one man and one woman is contrary to reason; they know that an institution as old as government itself, and accepted by every nation in history until 15 years ago, cannot possibly be supported by anything other than ignorance or bigotry. And they are willing to say that any citizen who does not agree with that, who adheres to what was, until 15 years ago, the unanimous judgment of all generations and all societies, stands against the Constitution.
5. The majority opinion's "showy profundities" lack logic and precision.
The opinion is couched in a style that is as pretentious as its content is egotistic. It is one thing for separate concurring or dissenting opinions to contain extravagances, even silly extravagances, of thought and expression; it is something else for the official opinion of the Court to do so.
Of course the opinion's showy profundities are often profoundly incoherent. "The nature of marriage is that, through its enduring bond, two persons together can find other freedoms, such as expression, intimacy, and spirituality." (Really? Who ever thought that intimacy and spirituality [whatever that means] were freedoms?
And if intimacy is, one would think Freedom of Intimacy is abridged rather than expanded by marriage. Ask the nearest hippie. Expression, sure enough, is a freedom, but anyone in a long-lasting marriage will attest that that happy state constricts, rather than expands, what one can prudently say.)
Rights, we are told, can "rise ... from a better informed understanding of how constitutional imperatives define a liberty that remains urgent in our own era." (Huh? How can a better informed understanding of how constitutional imperatives [whatever that means] define [whatever that means] an urgent liberty [never mind], give birth to a right?)
And we are told that, "[i]n any particular case," either the Equal Protection or Due Process Clause "may be thought to capture the essence of [a] right in a more accurate and comprehensive way," than the other, "even as the two Clauses may converge in the identification and definition of the right." (What say? What possible "essence" does substantive due process "capture" in an "accurate and comprehensive way"? It stands for nothing whatever, except those freedoms and entitlements that this Court really likes.
And the Equal Protection Clause, as employed today, identifies nothing except a difference in treatment that this Court really dislikes. Hardly a distillation of essence. If the opinion is correct that the two clauses "converge in the identification and definition of [a] right," that is only because the majority's likes and dislikes are predictably compatible.) I could go on. The world does not expect logic and precision in poetry or inspirational pop philosophy; it demands them in the law. The stuff contained in today's opinion has to diminish this Court's reputation for clear thinking and sober analysis.
6. Will the people remind the Supreme Court of its impotence?
Hubris is sometimes defined as o'erweening pride; and pride, we know, goeth before a fall. The Judiciary is the "least dangerous" of the federal branches because it has "neither Force nor Will, but merely judgment; and must ultimately depend upon the aid of the executive arm" and the states, "even for the efficacy of its judgments."
With each decision of ours that takes from the People a question properly left to them — with each decision that is unabashedly based not on law, but on the "reasoned judgment" of a bare majority of this Court — we move one step closer to being reminded of our impotence.