6 Christian Reactions to Trump-Putin Summit: 'Putin's Prison Bride' or Pursuing Peace?
3. John McCain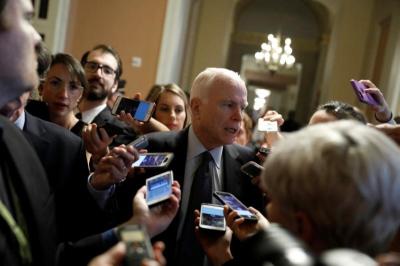 Arizona Sen. John McCain, a former Republican presidential candidate and a Christian who says he attends a Baptist church, issued one of the strongest rebukes of Trump's meeting with Putin.
"Today's press conference in Helsinki was one of the most disgraceful performances by an American president in memory. The damage inflicted by President Trump's naiveté, egotism, false equivalence, and sympathy for autocrats is difficult to calculate. But it is clear that the summit in Helsinki was a tragic mistake," McCain said in a statement on his website. 
"President Trump proved not only unable, but unwilling to stand up to Putin. He and Putin seemed to be speaking from the same script as the president made a conscious choice to defend a tyrant against the fair questions of a free press, and to grant Putin an uncontested platform to spew propaganda and lies to the world," he added.
The senator, who has in the past condemned Putin for his role in the Syrian civil war and the war in Ukraine, said that describing the press conference even as a "pathetic rout" would not be enough.
"These were the deliberate choices of a president who seems determined to realize his delusions of a warm relationship with Putin's regime without any regard for the true nature of his rule, his violent disregard for the sovereignty of his neighbors, his complicity in the slaughter of the Syrian people, his violation of international treaties, and his assault on democratic institutions throughout the world," McCain continued.
"No prior president has ever abased himself more abjectly before a tyrant. Not only did President Trump fail to speak the truth about an adversary; but speaking for America to the world, our president failed to defend all that makes us who we are — a republic of free people dedicated to the cause of liberty at home and abroad," he added.