6 Controversial Charismatic Christian Preachers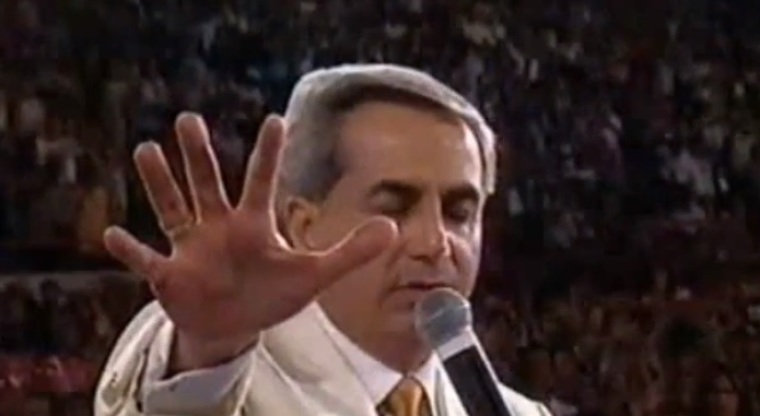 Benny Hinn, Kerney Thomas and Robert Tilton lead this list of six controversial Charismatic Christian preachers known for carrying out their ministry work in seemingly spectacular ways.
1. BENNY HINN (LET THE BODIES HIT THE FLOOR)
Televangelist and global preacher Toufik Benedictus "Benny" Hinn is known for travelling the world for his "miraculous healing crusades" and encouraging Christians to "sow seeds" into his ministry. What Hinn is most known for is the way in which he claims God anoints him with the Holy Spirit to lay hands on and heal people. The very popular YouTube video titled "Benny Hinn: Let the Bodies Hit the Floor" illusrates it best.
2. KERNEY THOMAS (THE SCREAMING PREACHER)
Kerney Thomas Jr., whose early-morning ministry program airs on BET Networks and features him taking calls and praying for people or doling out advice, is also known as "the screaming preacher" due to the vocality of his ministry.
Thomas also claims his "Red blood of Jesus Handkerchief" (which he pronounces in one broadcast as "prankerchief") is a point of contact between himself, God and whoever is seeking prayer.
3. ROBERT TILTON (THE FARTING PREACHER)
Televangelist Robert Tilton gained notoriety in the '80s and '90s via his "Success-N-Life" broadcast program, which was once described as the fastest growing television ministry in America. An investigation into his fundraising practices, however, shut the program down, but Tilton has returned to the airwaves and is offering a book via his website titled, How to Be Rich & Have Everything You Ever Wanted. Tilton has also gained notoriety online through a series of videos that inserts certain timed sound effects during his remarks.
4. PROPHET TB JOSHUA (NEW ANOINTING WATER)
Nigerian minister Prophet Temitope Balogun (T.B.) Joshua leads The Synagogue Church of All Nations (SCOAN), which has branches in London, in Athens, Greece and in Accra, Ghana. In addition to his prophecies regarding everything from current events to sports, Joshua claims God works through him to heal people of all kinds of maladies, including demonic possession. According to SCOAN, many of these purported healings are deliverable through Joshua's "anointing water," a product so desired by his supporters that an announcement of it being handed out for free at a church gathering in Ghana earlier this year caused a deadly stampede.
The video below shows one of the countless testimonials from his supporters, with this particular testimony coming from a woman who claims employment a "breakthrough through the medium of the anointing water."
5. PETER POPOFF (MIRACLE MANNA AND MIRACLE SPRING WATER)
Peter Popoff, another televangelist, went bankrupt in the '80s after he was exposed to being tipped off about those seeking healing during his crusades. He has rebounded, however, and broadcasts of his ministry program airs on BET Networks. The faith-healing televangelist has sold "miracle spring water" and "miracle manna" (purportedly made at the specific direction of God), and claims that their use will result in supernatural financial breakthroughs. Based on the testimonial video below, it seems those who use Popoff's "miracle spring water" find themselves swimming in money.
6. TODD BENTLEY (DELIVERING HEALING VIA VIOLENCE)
Evangelist Todd Bentley, who currently travels the globe preaching through his Fresh Fire USA ministry, gained notoriety several years ago through the Lakeland Revival events in Florida. He was banned from the United Kingdom last summer due to fears that he would use violence during his planned revival meetings in the country. Bentley has claimed that in the past he has felt led "by the Holy Spirit" to kick a woman with cancer in her face, purportedly to deliver her healing. He claimed the woman "was healed and not injured."