6 Critical Moments in Senate Testimony: Ford '100 Percent Certain,' Kavanaugh Swears Innocence Before God
3. Ford Talks Years of Anxiety, Panic After Attack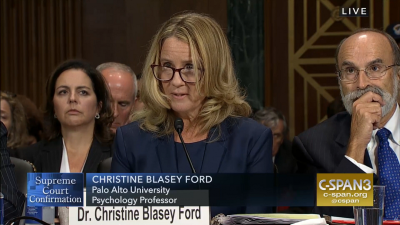 During the questioning, Ford was asked by Senate Committee Ranking Member Dianne Feinstein about what kind of impact the alleged attack had on her.
"Well, I think that the consequences of sexual assault varies by person, so for me personally, anxiety, phobia and PTSD-like symptoms are the types of things that I've been coping with. So more specifically, claustrophobia, panic and that type of thing," the California professor explained.
She said that the primary impact was in the first four years after event.
"I struggled academically. I struggled very much in Chapel Hill and in college. When I was 17 and went off to college, I had a very hard time, more so than others, forming new friendships and especially friendships with boys, and I had academic problems," she explained.
When asked in another instance about whether anything else in her life could have contributed to her anxiety and PTSD problems, she replied:
"I think the etiology if anxiety and PTSD is multifactorial. So that was certainly a critical risk — risk that — we would call a risk factor in science, so that would be a predictor of the symptoms that I now have.
"It doesn't mean that other things that have happened in my life would have — would make it worse or better. There are other risk factors as well."