6 Critical Moments in Senate Testimony: Ford '100 Percent Certain,' Kavanaugh Swears Innocence Before God
5. Lindsay Graham's Rebuke of His Colleagues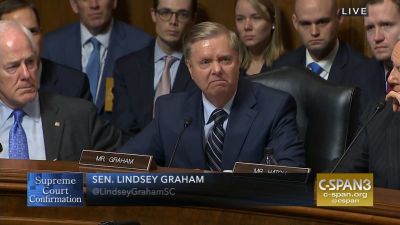 Of all the various questions, interjections, and statements by the senators present at the hearing, the one that has stirred the most talk is Republican Sen. Lindsay Graham, R-S.C., who slated the entire process and what is being done to Kavanaugh.
"This is the most unethical sham since I've been in politics," Graham lashed out.
"Boy, you all want power. God, I hope you never get it. I hope the American people can see through this sham. That you knew about it and you held it. You had no intention of protecting Dr. Ford; none," he said of Democrats, accusing them of sitting on Ford's accusations, sent to Feinstein in July, until the last weeks before Kavanaugh's confirmation vote.
Turning to the judge, he said of Ford: "She's as much of a victim as you are."
He continued: "God, I hate to say it because these have been my friends. But let me tell you, when it comes to this, you're looking for a fair process? You came to the wrong town at the wrong time, my friend. "
Later on, Graham said that the going-ons are "going to destroy the ability of good people to come forward because of this crap."
"You're supposed to be Bill Cosby when you're a junior and senior in high school. And all of a sudden, you got over it. It's been my understanding that if you drug women and rape them for two years in high school, you probably don't stop," he said to Kavanaugh.
Graham went on: "To my Republican colleagues, if you vote no, you're legitimizing the most despicable thing I have seen in my time in politics."
Turning to Kavanaugh again, he concluded: "I hope you're on the Supreme Court, that's exactly where you should be. And I hope that the American people will see through this charade. And I wish you well. And I intend to vote for you and I hope everybody who's fair-minded will."