6 Critical Moments in Senate Testimony: Ford '100 Percent Certain,' Kavanaugh Swears Innocence Before God
4. Kavanaugh Says His Family, Name Have Been Destroyed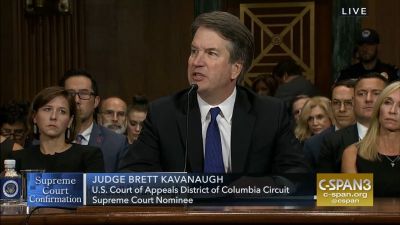 Later in the day when it was Kavanaugh's turn to testify, he did so in a 45-minute impassioned speech, where he again denied that he had anything to do with the assault Ford says she suffered.
"I denied the allegation immediately, categorically and unequivocally," the judge said of the accusations, which were first published two weeks ago.
"All four people allegedly at the event, including Dr. Ford's longtime friend, Ms. Keyser, have said they recall no such event," he said of Ford's previously mentioned female friend. "Her longtime friend, Ms. Keyser, said under penalty of felony that she does not know me, and does not believe she ever saw me at a party, ever."
He accused the committee of taking 10 whole days to set up the hearing.
"In those 10 long days, as was predictable, and as I predicted, my family and my name have been totally and permanently destroyed by vicious and false additional accusations. The 10-day delay has been harmful to me and my family, to the Supreme Court and to the country," Kavanaugh declared.
He went on to add that there has been a "frenzy" by the left to come up with anything to block his confirmation, and noted that he has been demonized by Democrats as "evil," even before the sexual misconduct accusations came out.
Kavanaugh noted that beside the sexual misconduct allegations, he has recently been accused of various other things in the media, all of which he says are untrue.
"Crazy stuff. Gangs, illegitimate children, fights on boats in Rhode Island. All nonsense, reported breathlessly and often uncritically by the media," he listed out.
"This has destroyed my family and my good name. A good name built up through decades of very hard work and public service at the highest levels of the American government."
The Supreme Court nominee insisted that he does not question that Ford might have been "sexually assaulted by some person in some place at some time," but declared that he has "never done this" to her or to anyone.
"I intend no ill will to Dr. Ford and her family. The other night, Ashley and my daughter, Liza, said their prayers," he revealed, while tearing up. "And little Liza — all of 10 years old — said to Ashley, 'We should pray for the woman.' It's a lot of wisdom from a 10 year old. We mean — we mean no ill will."
He went on to describe the proceedings as a "circus."
"This whole two-week effort has been a calculated and orchestrated political hit, fueled with apparent pent-up anger about President Trump and the 2016 election. Fear that has been unfairly stoked about my judicial record. Revenge on behalf of the Clintons, and millions of dollars in money from outside left-wing opposition groups," he said.