6 Things to Know About Trump's Feud With the NFL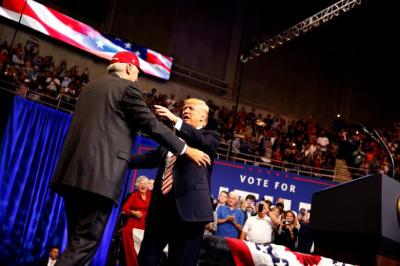 2. Trump called on NFL owners to fire players who protest during anthem.
Before the president interjected himself into one of the most emotionally-driven social discussions in the United States, only a select number of players and teams were using the national anthem to make the social statement. However, that all changed after Trump spoke last Friday at a campaign rally for Alabama Republican Senator Luther Strange.
"Wouldn't you love to see one of these NFL owners, when somebody disrespects our flag, to say, 'Get that son of a b**** off the field right now. Out! He's fired. He's fired!'" Trump said. "You know, some owner is going to do that. He's going to say, 'That guy that disrespects our flag, he's fired.' And that owner, they don't know it [but] they'll be the most popular person in this country."
Trump also posted a series of tweets about national anthem protests on Saturday.
"If a player wants the privilege of making millions of dollars in the NFL, or other leagues, he or she should not be allowed to disrespect ... our Great American Flag (or Country) and should stand for the National Anthem. If not, YOU'RE FIRED. Find something else to do!" Trump wrote.