6 Things to Know About Trump's Feud With the NFL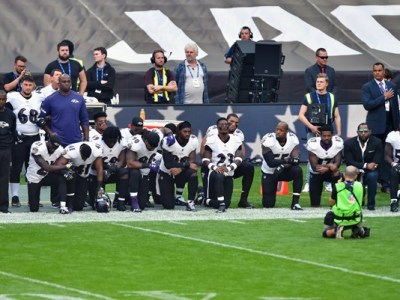 3. Players, coaches, and teams responded in force.
Over 200 NFL players chose to sit or kneel during the playing of the "Star Spangled Banner" before Sunday's games, according to the Associated Press.
Meanwhile, three teams — the Pittsburgh Steelers, Tennessee Titans and Seattle Seahawks — chose to stay in the locker room during the singing of the national anthem before their games. In fact, Steelers offensive tackle Alejandro Villanueva, a former Army ranger who served three tours of duty in Afghanistan and is a graduate of the United States Military Academy in West Point, New York, was the lone Steeler on the field during the national anthem.
Many teams locked arms while some players stood and others knelt or sat during the national anthems. A number of owners also got involved.
"Chapel that morning was emotional as guys talked about what they wanted to do," Watson, who was interviewed by ABC's "Good Morning America" on Monday, said of conversations he had with his Ravens teammates before Sunday's game.
"Wanting to respect our country and show their love for their country but also wanting to respond in solidarity. It kind of was organic. We got on the field and some guys had decided to kneel that didn't before. Other guys locked arms. I locked arms and I also pointed to the skies because I really believe that the Lord will have to have His hand on us when it comes to reconciling our differences."